Have you ever dreamed of having your own backyard workshop? Whether it's for a new hobby or something you've been honing for years, having a dedicated workshop provides a space for your tools and equipment, a safe, clean environment, and peace of mind.
Like so many of us, you're probably getting by cramped in a corner of the garage or hunkered down in the basement. However, having a dedicated space to work isn't as difficult or expensive as you think.
A simple shed converted to a backyard workshop might be exactly what you need. Plus, you don't have to tell me how important it is for daddy/son time in the workshop can be!
A backyard shed can be converted to fit a wide range of uses — from a backyard office to an escape for Mom to a place to store your mower. The options are almost endless! But before you choose a shed and start hauling your gear out back, take a few minutes to think about what exactly you want and need. Here are a few things to consider.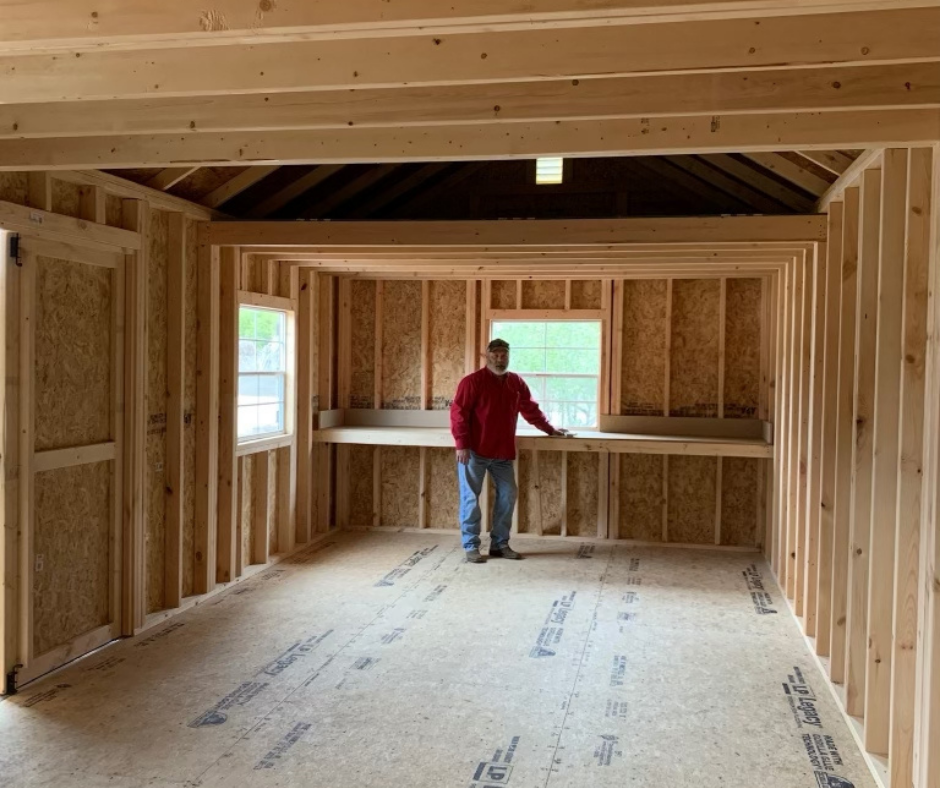 3 Things to Consider before Converting a Shed to a Backyard Workshop
1. Table and Stool
At the bare minimum, you'll need a sturdy table and stool. A broad flat surface will accommodate most workshop needs but keep the material in mind. Certain woods are too soft to hold up to heavy use while metal may be unsafe if it becomes too dented or slick when wet. Choose a stool that can slide under your table for storage or folds up to be tucked out of the way.
2. Tool Storage & Organization
Speaking of storage, consider what you will need to keep the area tidied up and organized. To make the most of a small space, think vertically: shelves, hooks, and a wall-mounted pegboard are all excellent options. Then add baskets and buckets as needed.
3. Ventilation
No matter what you're working on, it's always a good idea to have excellent ventilation. An open window or door is probably all you need in warmer months but consider a fan or a simple vent built into the roof to minimize fumes and help control the temperature.
4. Lighting
Good lighting can make all the difference! You'll need bright lights to be able to see the details of your project. But also, being in a well-lit room can help with your motivation. Lighting sets the right atmosphere you need to create a really great space for yourself.
Oh, and you can get overhead lights with bluetooth speakers built in! Win-win!
Now that you've made a list of everything you need for your backyard workshop, it's time to build! There are many shed styles to choose from that would work perfectly as a backyard workshop. We would be happy to help you decide. Contact us to schedule your free backyard evaluation so you can be sure which shed will fit your needs.
Click here to schedule a free Yard Evaluation or contact us by phone: (254) 537-1014.
What would you do with a dedicated workshop in your backyard?
Let us know in the comments below!