Swing Sets & Playsets at Farm + Yard
We are proud to partner with Tree Frogs, who has a stellar reputation in Texas for playsets that are strong, beautiful, and made to last. With several designs to choose from, you're sure to find a Tree Frogs swing set that will make your wallet and children very happy!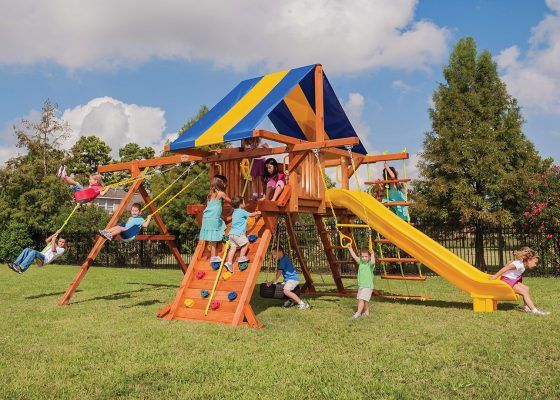 Ladder Base Playsets
Ladder Base playsets are well suited for backyards with an uneven surface! These designs have popular features like 360-degree swivel tire swings, climbing ladders, and rope ladders.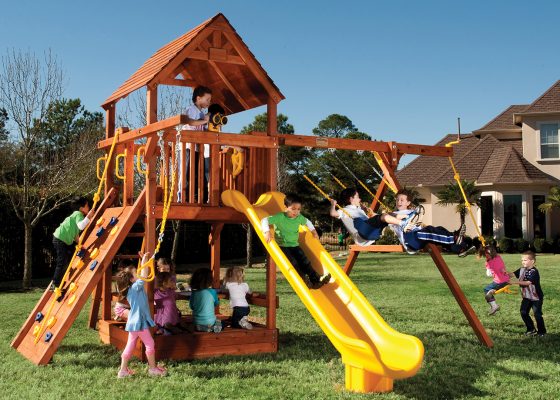 Fort Base Playsets
Fort Base playsets are every child's dream! Designed to have either a playhouse, picnic table, or sandbox on the lower level, the choices are endless with Tree Frogs' Fort Base playsets!
We just purchased a playset for our kids and had a great experience at Farm & Yard! Travis was patient and answered all of our questions, we truly felt like he took the time to help us find just the right playset for our kids. We are pleased with the quality of the playset, the installation, and the wonderful customer service we received!
Very nice people, we had a great experience and will be going back in the future! We love our play set
1. Outright Purchase
This is the easiest and simplest way to purchase your playset. Place your order with a 50% down payment which can be made with check, cash, credit card or Venmo. Your balance is then due at time of install. 
2. Rent to Own from Hometowne Capital
There's no NO CREDIT CHECK so you're automatically approved. Plus, get 90 days same as cash on any playset. Choose between either a 24 or 36 month plan. Place your order with your first months rent plus an equal security deposit and enjoy no early payoff penalties.
Frequently Asked Questions
What is the difference between fort base and ladder base playsets?
Fort base playsets have a square base, suitable for a level playing surface, whereas the ladder base designs are perfect for uneven or sloped backyards. Fort base playsets give you the option for a picnic table or sandbox while a ladder based playset gives you the option to have a tire swing.
Will my playset arrive fully assembled?
In most cases, no. Our playsets are installed by seasoned professionals who assemble your playset piece by piece right in your backyard. If however you do purchase one of our display models, it may arrive at your house partially assembled. Either way, when we walk out of your backyard, you'll have a fully assembled playset, ready for your little ones to play on.
Do you have Financing?
Yes! Through our partnership with Hometowne Capital we offer a 24 and 36 month NO CREDIT CHECK Rent to Own Plan on our playsets.
Additionally through our partnership with First Financial Bank we also offer some competitive financing options including 18 months no interest with $0 down. Click the button to start the approval process.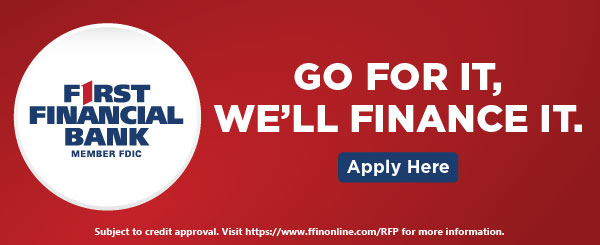 How long will it take for me to get my Playset?
The timeframe varies on time of year, our workload and the type of playset you are purchasing. At the time of your order and deposit, we will provide an approximate time frame for delivery. Give us a call anytime to ask what our current lead times are for your location and structure! If you need something quick for a birthday party or event, choosing one of our display models is a great way to get something in a short amount of time.
What information do I need to purchase my playset?
Working with Farm + Yard is a breeze! Come with an idea of the size and style you need, and we'll plan the details with you. It's helpful to bring along a photo of the location where your playset will be placed. We're happy to chat with you over the phone or in person.
To place an order for your structure, you will need to provide a deposit of 50% of your purchase. If you are doing Rent to Own the first and last months payment is required to place your order. We accept all major credit cards, checks, and cash.
What kind of foundation do I need for my playset?
For the longevity and safety of your playset, we recommend having a smooth, level surface for your playset to sit on.  We recommend a mulch pad with kiddie cushion or rubber mulch.  This mulch pad should be 3 to 5 inches thick, and leveled. The mulch pad should be at least 8 foot ( 96 inches) wider and longer than the footprint of your playset, leaving at least 48 inches on either side of your playset. We're happy to recommend one of our trusted foundation contractors to assit you in putting in a mulch foundation for your playset.
If however you prefer simple setting your playset on a level grass area in your yard, that is acceptable as well.
How many people will it take to install a playset?
Our professional installers work in crews of two. Our smaller playsets can be installed in 3-4 hours. Our midsized playsets can be installed in 4-6 hours and our larger sets take us aproximatly 8-9 hours to install.
Does my new playset come with a warranty?
Yes! Treefrogs Wooden Swing Sets are constructed with 100% premium cedar and redwood. Click hear to see our full warranty on our Treefrog Series playsets and click here to see our full warranty on our Jaguar Series playsets.