Let's face it; Moms are the glue that holds life together. Moms can always find the (forever) lost shoe, finds a way to know what's for dinner days in advance, and is always available for cuddles.
What Moms don't have enough of is time alone – time to sleep, time to think, time to pursue their own hobbies, or time to start a new business, or time to be still without someone constantly wanting a snack. (I'm looking at you, Dad.)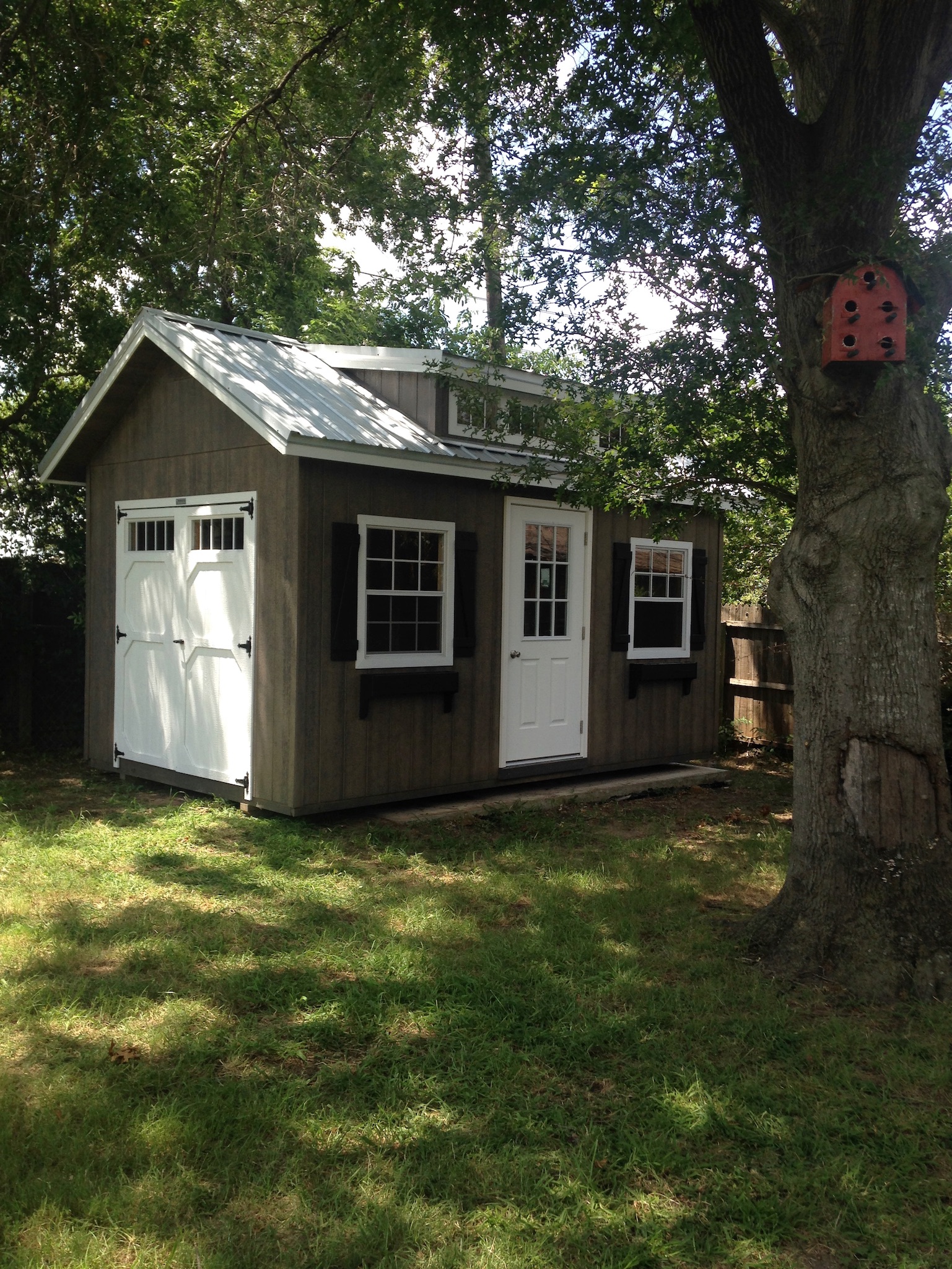 A She Shed (or a SHEdquarters) is the perfect place to give mom a little bit of tranquility and helping her get the time alone to rejuvenate.
Here are a few uses for a She Shed:
home office
art studio
craft shack
writing corner
sewing cottage
meditation center
recording studio
gardening shed
reading nook
yoga studio
library
Instead of taking up a whole room in your house or confining Mom to a tiny corner, create a space in a She Shed. She can decorate it however she wants to inspire creativity, productivity, and organization.
Renting an office is often out of the question: it's expensive and requires a commute, which Moms don't have time for. Having something in your yard where Mom can work is the perfect solution for your office needs.
Here are few tips to make a regular storage shed into a She Shed just for Mom:
1.  Involve light
You might install a great light fixture or simply make the windows larger and let the Sun do its job. No matter what you choose, make sure it's bright and cheery.
2.  Decorate in Mom's style
Decorating will probably involve a fresh coat of paint and comfy furniture.  This also might involve more pink and lace than anyone is comfortable with.  (That's ok; it's for Mom.)  Decorating in Mom's style lets her know that she has a place that is all for her.
3.  Create a small garden around the perimeter
Mom wants to arrive at her She Shed looking like it's from a magazine. If the yard is littered with toys, sports equipment, and dog toys, she might not feel as relaxed.
Create a lovely perimeter around the shed that gives her inspiration before she even sets foot inside.
Bonus points if you spend time on the entryway too. This is an often overlooked area that can really make the She Shed into a SHEdquarters.
4.  Make organization easy
Go to flea markets for some whimsical pieces or hang some simple shelves. Whatever your style, make it easy for Mom to give all of her stuff a home so that she can find everything.
Repurpose an old ladder or use a vintage desk to store all of your stuff without sacrificing style.
It doesn't matter if Mom is an artist, a writer, a yogi, an accountant, or a crafts(wo)man; she needs a space of her own. A space for quiet. A space to be herself. A place to drink wine in her yoga pants.
SUCCESS STORY!
Recently, a local stylist, Shelby, realized she was running out of room in her home to have a successful salon and boutique.  She came to Farm + Yard and picked out the perfect solution: 12×24 Lancaster shed and turned it into the business of her dreams.
Shelby is local to the area, was short on space, and needed something completely customizable.  The results are better than you could ever imagine!
Ready to give Mom the She Shed she deserves?
Sometimes it's hard to know the right fit for your yard, which is exactly why we love coming to your home to do a FREE yard evaluation.  We can help you decide on the perfect spot and size for your storage barn SHEdquarters.
We even have a couple styles for you to look at, walk through, and to visualize the perfect space when you come visit
Click here to schedule a free Yard Evaluation or contact us by phone: (254) 537-1014.