Horse Barns at Farm + Yard
We are proud to offer locally-built horse barns for your hobby farm or ranch! Our pre-built horse barns are delivered to your property ready for use–Plus, the first 100 miles are always free… simply let us know where you need it and we'll get it there!
Stop by our sales center in Robinson to get an up-close look at the quality and craftsmanship of our horse barns on display!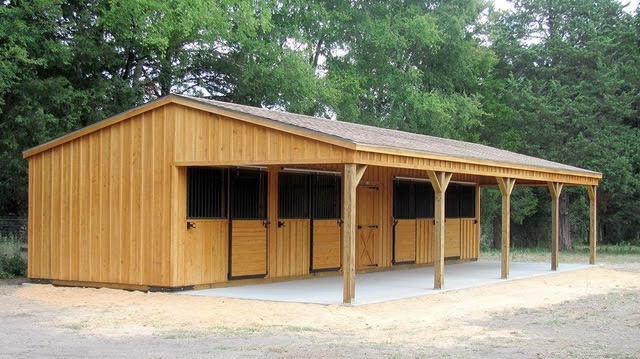 Our Horse Barns are designed specifically for the comfort of your horses and built with great attention to detail. Because our barns are built from locally sourced Cypress board and batten siding, they are naturally bug and weather resistant! You can rest assured your barn will give your horses a safe place to call home for years to come.
I would like to thank all the guys who helped with our barn. Travis has always made sure things are done write. Answers when ya have questions. The crew who brought the barn were fantastic, polite, easy to talk to and hardworking. The barn is just beautiful we could not be happier with the craftsmen ship and quality! Thanks again guys!!!
They're hard working guys & they did a great quality of work. My horse barn looks fantastic! It's all worth it. I give it two thumbs up! The guys are awesome to talk to and answer all the questions that I have concern with.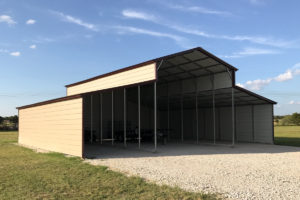 Looking for metal horse barns? We're proud to partner with Eagle Carports to offer metal horse barns in a variety of sizes. Click here to see our metal Horse Barn options!
Need Something Quick? View Our Inventory!
No Results Found
The page you requested could not be found. Try refining your search, or use the navigation above to locate the post.
Frequently Asked Questions
How will my horse barn be delivered?
Horse barns are pre-built in a controlled environment by local craftsman and delivered fully assembled. Some parts of your barn, like large overhangs or the center aisle on the Portable Isle Barns, are completed on-site. 
Do you offer financing options?
Yes! Through our partnership with BLI, we're able to offer financing options on most of our horse barns. 
Do I need a permit for my horse barn?
That varies by town and municipality. Check with your local code office to see what the requirements are for your location. They will provide you with an application for a permit if needed and let you know the process you need to take. If you have questions about the size and details of your structure, contact us – we'd be happy to help!
How long will it take to get my horse barn?
The timeframe varies on time of year, our workload and the type of barn you are purchasing. At the time of your order and deposit, we will provide an approximate time frame for delivery. Give us a call anytime to ask what our current lead times are for your location and structure! 
What are the advantages of pre-fab vs stick built?
Overall, prefab structures are more cost effective to build for a number of reasons. They are manufactured in our facilities, which means there are no delays due to weather. Plus, our streamlined construction process allows us to be fast and efficient.
Prefab structures must also withstand the stresses of being moved from our shop to your backyard. Not only are our horse barns built to stand the test of time on your property, they are built to stand the test of transportation as well.
What information do I need to have when I come to purchase my horse barn?
Working with Farm + Yard is a breeze! Come with an idea of the size and style you need, and we'll plan the details with you. It's helpful to bring along a photo of the location where your horse barn will be placed. We're happy to chat with you over the phone or in person.
To place an order for your structure, you will need to provide a deposit of 35% of your purchase. If you are doing Rent to Own, the first month's rent plus a security deposit is due at time of order. We accept all major credit cards, checks, and cash.  
What's the difference between buying a horse barn in-stock or placing a custom order?
There is no difference in the price of your structure! Depending on the lead time, there may be a difference in delivery time, but not always. We're happy to deliver your dream horse barn directly from our sales center or fresh from the shop!
What kind of foundation do I need for my horse barn?
For the longevity and safety of your horse barn, we recommend having a hard, level surface for your barns foundation.  Our run-in sheds are typically installed on a level area right out in your pasture. Our shedrow barns can also sit right on a level area in your pasture, however, for optimal performance and for the longevity of your barn, we recommend installing 12″ round leveled concrete piers at ground level at each structural point of the barn. We'll install the barn directly on top of the piers and anchor the barn into the concrete. This is also the optimal foundation for our Isle Portable Barns.  We're happy to recommend one of our trusted foundation contractors to assist you in putting in the foundation for your new barn.  
How many people does it take to install a horse barn?
Usually only one delivery team member will delivery your horse barn. We have a specialized trucks and trailers that allow us to maneuver into your pasture or yard and place the barn where you would like. Having the proper clearance for our rig to get your barn where you want however is essential.