Metal Sheds
The maintenance and worry-free space you need that's easy on your wallet.
FIND YOUR METAL SHED
Unique Collection of Metal Sheds
Do you need a space to store your new lawnmower, ATV, or golf cart? Do you need a workshop to store your tools? Or have you been looking for a run-in shelter for your animals on your hobby farm or a greenhouse to protect your plants in your backyard? We've got a great selection of sizes and styles for any budget. Our metal sheds are built for durability with solid wood framing and are maintenance-free with superior siding. Check out our different shed styles below all completely customizable and hand-built by local craftsmen.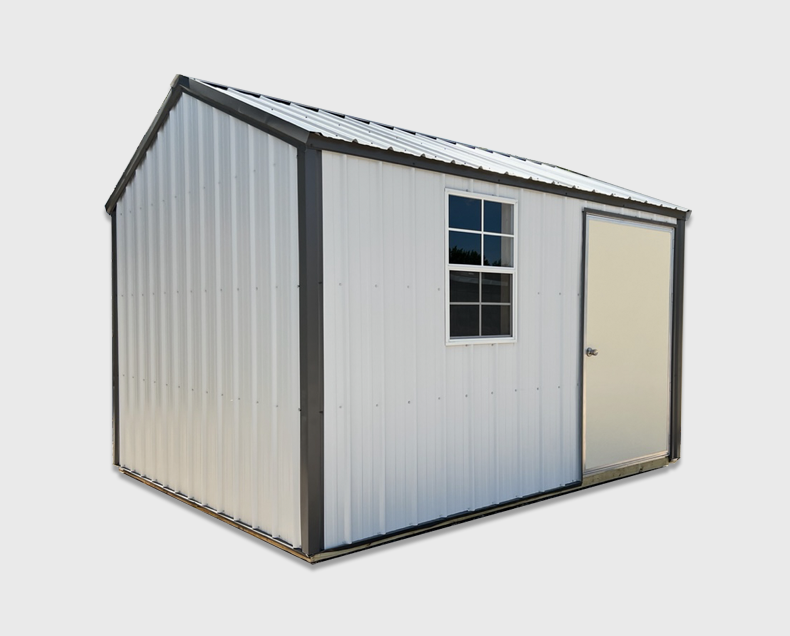 UTILITY SHED
Our most popular storage shed. Versatile with its traditional A-frame design so it looks great in any backyard.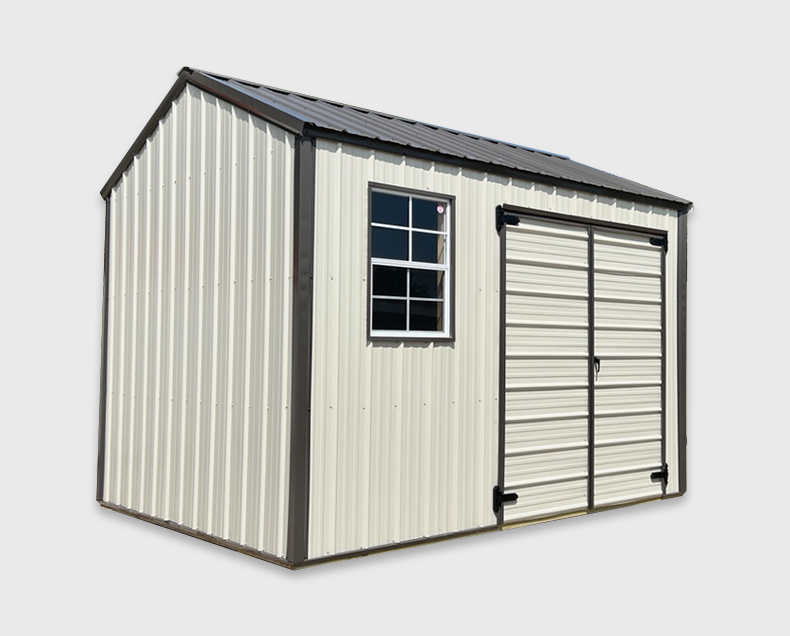 UTILITY TALL SHED
Exactly like the Utility Shed, but with 8' tall walls for a more profound look and spacious interior.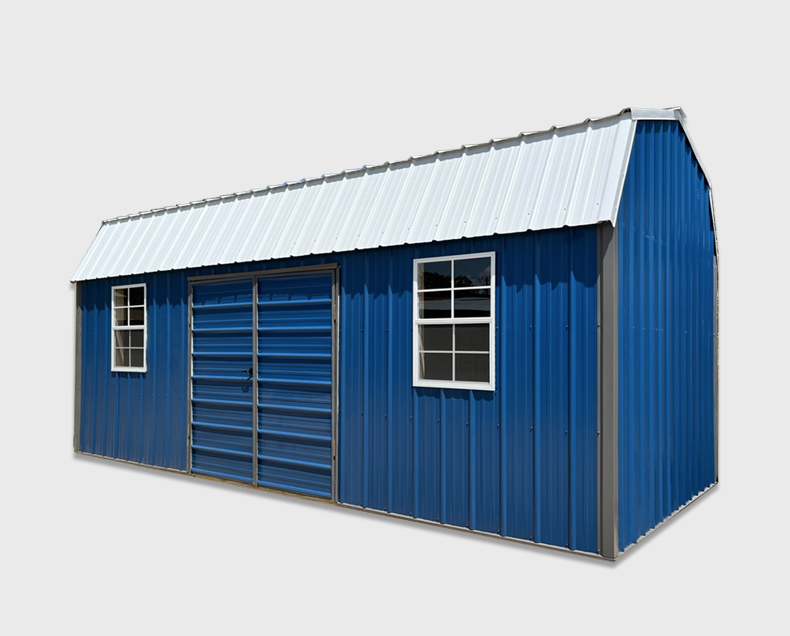 LOFTED BARN SHED
Perfect for storing your everyday essentials below and seasonal decor in the spacious lofts above.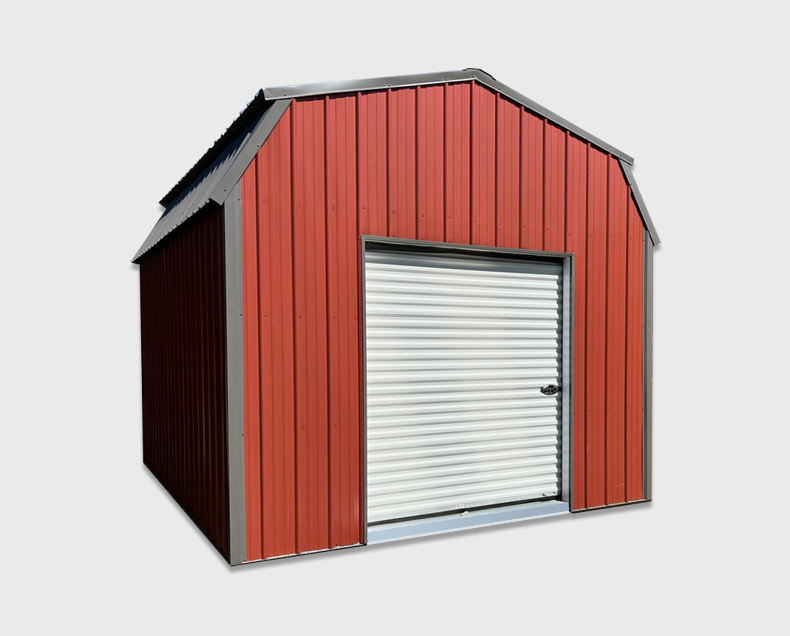 LOFTED BARN TALL SHED
With all the same features as our Lofted Barn, but with an 8' tall side wall.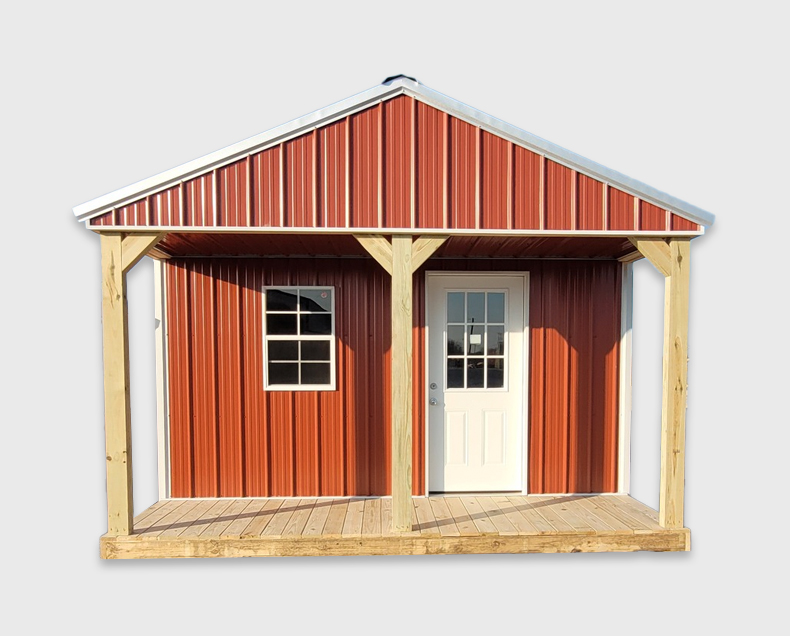 CABIN SHED
Workspace or in-law suite? You decide! This versatile shed features an inviting porch with a traditional house door and window.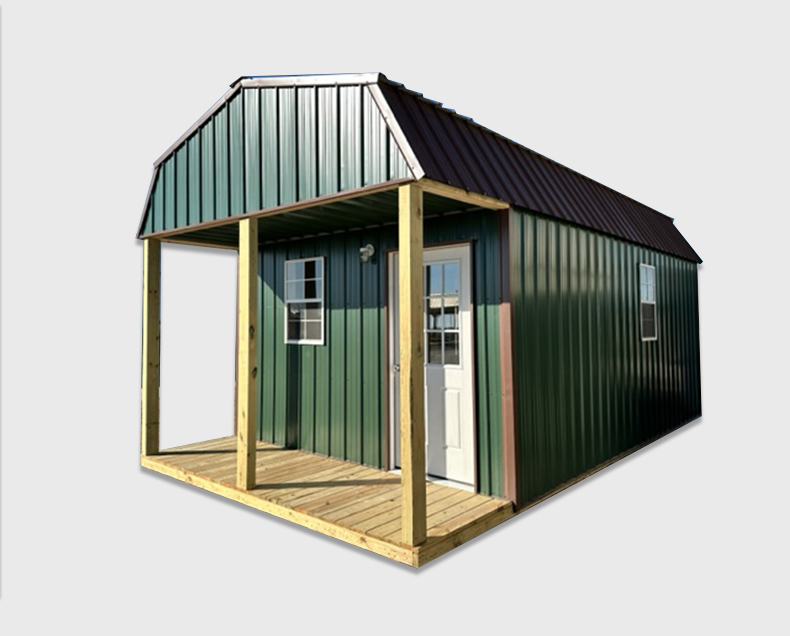 LOFTED CABIN SHED
Store items above and still have plenty of room below for a man cave, pool room, or a hunting cabin.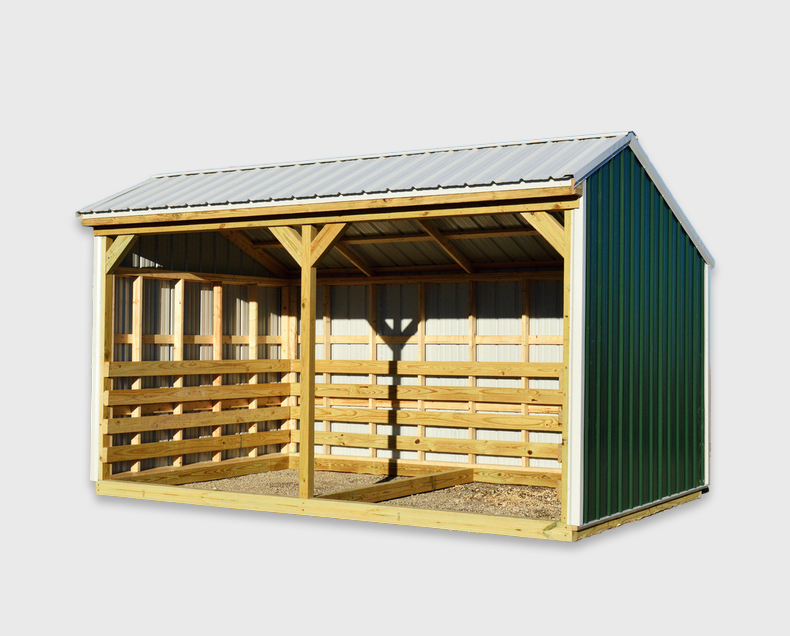 LOAFING SHED 
Designed to be installed in your pasture this strong structure offers a safe protective cover for your animals during harsh weather.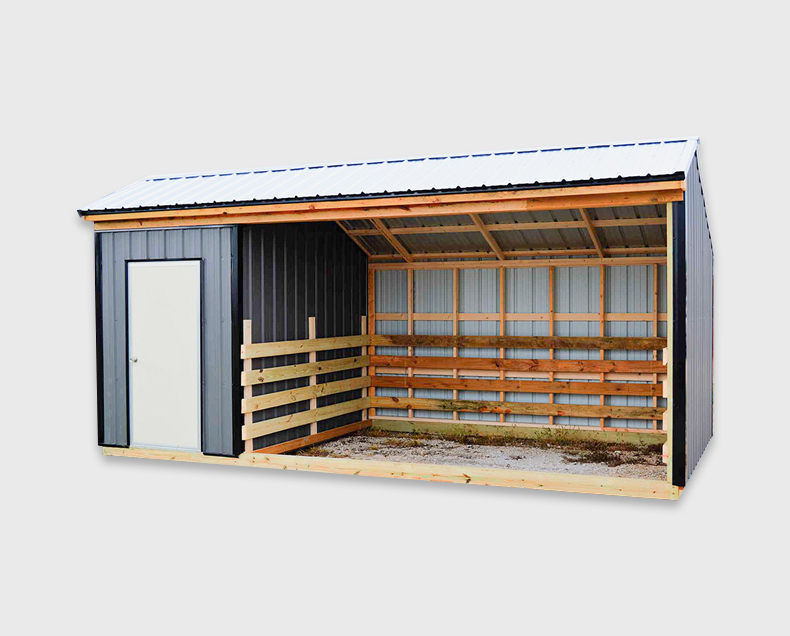 LOAFING SHED
WITH TACK ROOM
Designed and built to store saddles, bridles, and other equipment, while also allowing animals to move seamlessly in and out.
*FLOORING INCLUDED IN TACK ROOM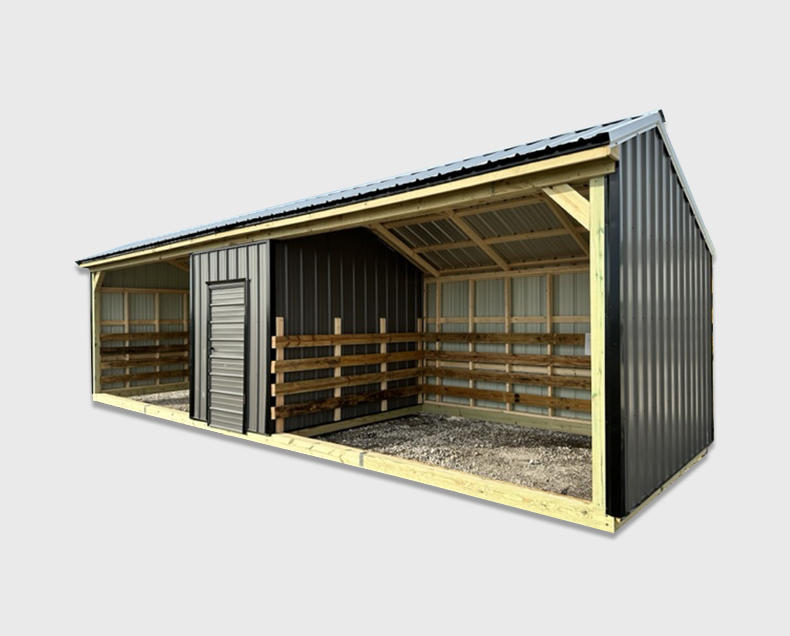 PREMIUM LOAFING SHED
WITH TACK ROOM
Our most spacious barn designed with a Tack Room between two open stalls to conveniently give your horses their own space.
*FLOORING INCLUDED IN TACK ROOM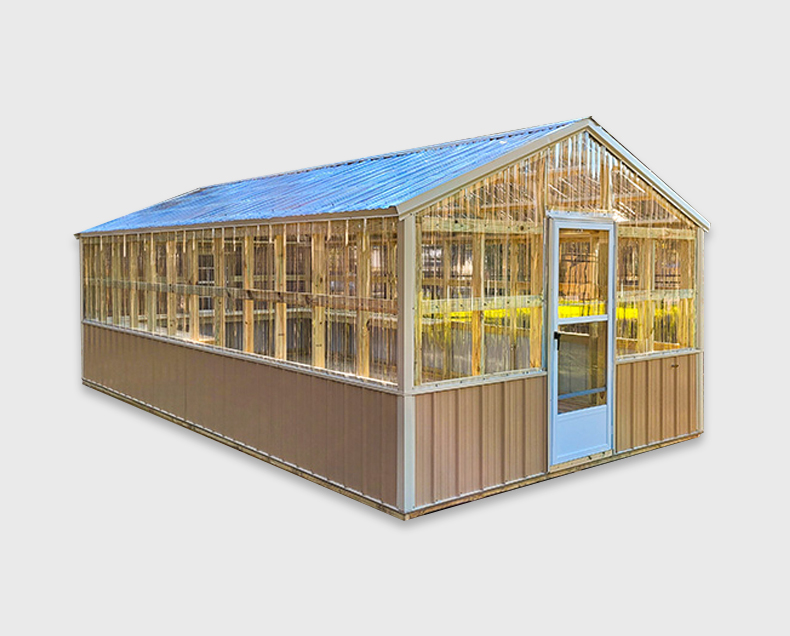 A-FRAME GREENHOUSE
If you have a green thumb, our greenhouse is the perfect potting shed built just for you. Make gardening easier and keep your plants or vegetables safe during colder months.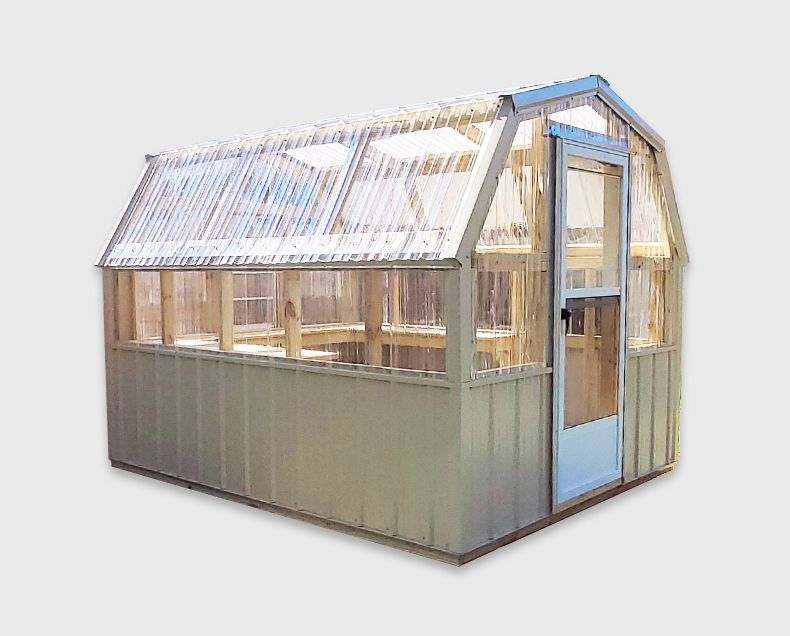 GAMBREL GREENHOUSE
Built and designed just like the A-frame greenhouse, but with a charming gambrel roof line. This custom-built greenhouse is another option to let your plants thrive in your own backyard.
Please note that some sheds may show upgrades
7 Quality Features That Make Our Metal Sheds Different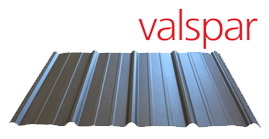 Maintenance Free
Heavier metal with superior Valspar coating for exceptional weather resistance.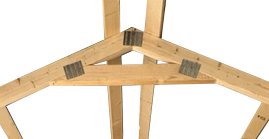 Superior Roof System
Solid wood framing and pressed rafters with metal plates.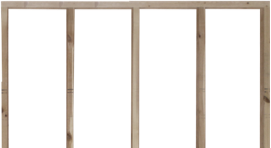 Better Framing
Premium grade lumber, double 2×4′ top plate, 24″ on center wall studs with purlins.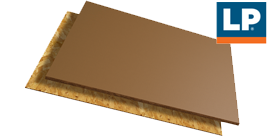 Stronger Flooring
5/8″ tongue and groove, rot and bug resistant LP® ProStruct flooring
Commitment to Quality
Premium 3-year top to bottom manufacturer warranty.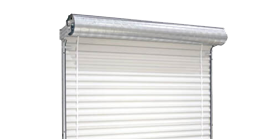 Sturdy Doors
Premium steel rollup doors and maintenance-free fiber glass walk-in doors.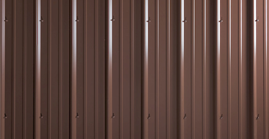 Weather Protected
29 gauge metal with 40 year warranty installed vertically 
Not sure if the shed you are wanting will work in your backyard? We're here and happy to help! We'll take a look at where you want to put your new shed, take some measurements and then let you know what your options are. 
We've partnered with Hometowne Capital for rent-to-own and First Financial Bank for traditional financing to make your purchasing process as stress-free as possible. Split your purchase into easy monthly payments.
EXISTING INVENTORY
Need Something Quick?
Our custom-built storage sheds take 3-5 weeks to build. If you'd like something quicker, choose a metal or painted shed from our inventory below and get delivery in 7-10 business days!
"Best customer service ever! These guys helped us pick out a run-in shed for our horses in our budget and even came out to our property to give a free evaluation on where to put our shed that would best suit our mares based on the land's topography/drainage, etc. My mares are loving their run-in shed!"
- Emma Dear
"They listened to my needs and gave me a recommendation that they felt was the best option for me. I originally called looking for a carport to protect my new motorcycles, but they recommended a small utility building which turned out to be slightly more in price, but completely encloses my bikes and offers better protection!"
- Michael Ruiz
"We recently bought a new run-in shelter for our donkeys and goats and the entire process was seamless. They were amazing to work with and helped us customize a shelter that met all of our needs! We could not be happier with the quality and the timely installation!"
- Elizabeth Hodges 
"I received the best experience while shopping for my shed (turning it into a workshop). There were other shed companies near me, but I chose Farm + Yard because of the customer service and their amazing sheds. The delivery and setup were easy and pain-free. They did a great job setting it up on my property."
- Angela Santangelo
Ready to Get Started?
Interested in learning more about our metal sheds in stock or wanting to design your own custom shed? It all starts with a free consultation. Contact us or tap the chat button in the lower right corner of your screen to talk with a sales advisor!