What do you do?  The structure is perfect – it's everything you could have asked for, and it functions are endless, but it just doesn't look right.
Here are 8

 ways to beautify your storage shed in your backyard:
1.  A new coat of paint
Freshen up your storage shed with a new coat of paint.  Paint is an inexpensive and easy way to bring life to your backyard.
Pro Tip

: to make your shed pop, paint the doors a bold color.  We recommend teal or red.  These colors really make a statement.
2.  Add bird feeders

Birds – and other wildlife – create such a wonderful atmosphere in your yard.  Not only are they beautiful to watch, they offer an unexplained peace that comes with having nature take place right outside your window. Hang some bird feeders to invite your feathered friends to stop by.  
3.  Create art
4.  Accessorize the exterior
Speaking of the exterior, when you decorate the outside of your structure, you create a welcoming atmosphere that encourages you to use every inch of space.  Start by adding a bench to read on, get creative an use an old wheelbarrow as a repurposed flower pot, or hang a seasonal wreath.  The ideas are endless and will make the outdoor structure feel like it's a part of the house. 
5.  Add a pergola to the front
Can you ever go wrong with a pergola?  'Nuff said.
6.  Add curtains
Just like inside your home, curtains add a special touch that makes the space feel inviting.  Plus, curtains add a touch to the exterior and play into the whole decor of the backyard.
7.  Add plants
We would be wrong if we didn't mention plants when talking about beautifying your backyard.  If there isn't enough space to mulch and plant flowers, you can use trellises to grow climbing vines or window boxes for flowers.  No matter what, plants are always a good idea.
8.  Landscaping
Landscaping can be as simple as mulch and as complex as a full vegetable garden around.  Don't over think it.  Start simply and add as you find more ways to make the space functional and beautiful.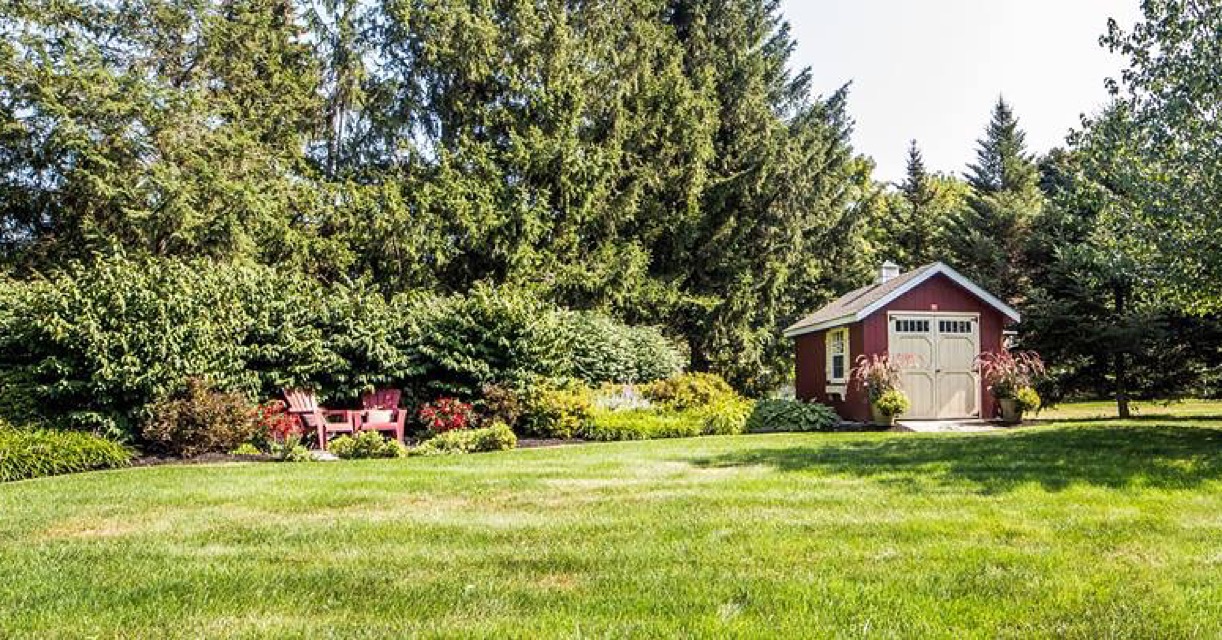 If painting an older shed isn't for you, Farm + Yard offers brand new, beautiful sheds that are ready to be delivered to your yard.  Come by and check out our lot and see what we have.  When you know what you're looking for, we can come by and do a yard evaluation.
Do I need a yard evaluation?
Sometimes it's hard to know what will fit perfectly in your yard.  We offer a FREE yard evaluation so you can be sure you have the perfect spot for your new storage shed.
Click here to schedule a free Yard Evaluation or contact us by phone: (254) 537-1014.