Carports are great additions to your property – and for more reasons than you think! Carports provide coverage for your everyday cars and trucks but installing a carport is the perfect storage solution for boats, ATVs, and other fun vehicles. Aside from protecting your vehicles, a carport also makes a great pavilion for big projects and parties.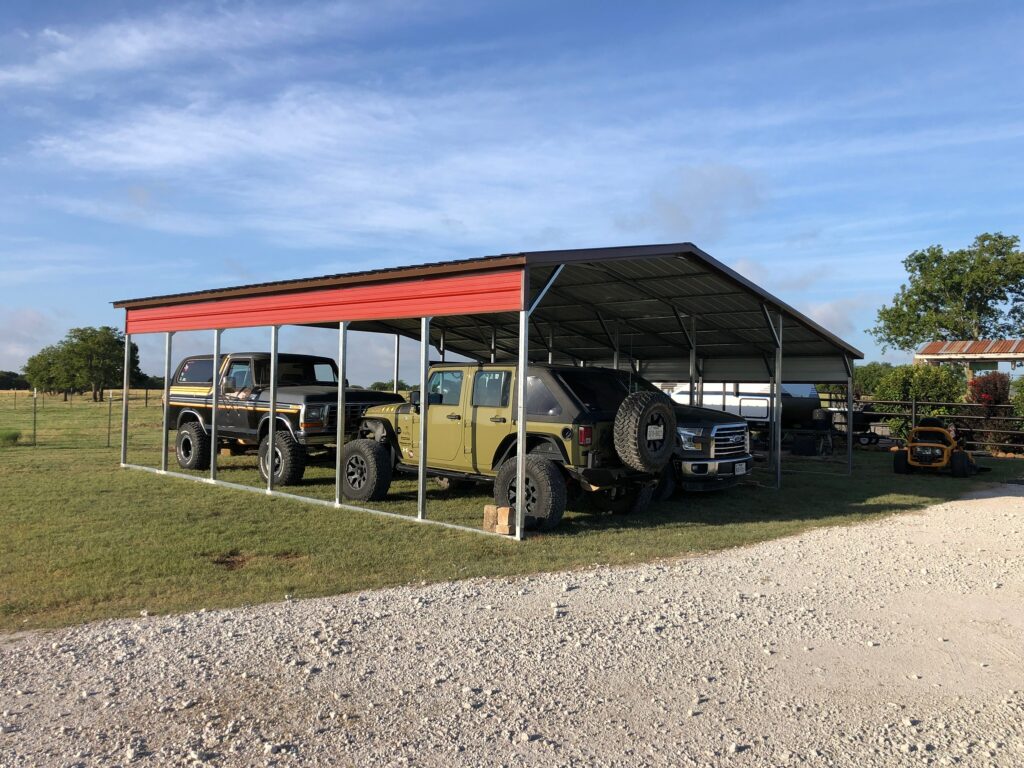 Here are 4 benefits of installing a carport:
1. Protect Your Vehicles from Harsh Weather
Carports provide year-round protection for your vehicles. Normally our winters here in Texas are pretty mild but, if last year taught us anything, it's to be prepared for it all!
Snow, hail, heavy rain, strong winds – a carport helps to protect your car AND makes it easier for you to get in and out without dodging raindrops. On the flip side, a carport helps keep your car cool and protects the paint from damaging sun rays during those dog days of summer. Ever wonder how hot your car can get in the summer?
I did an experiment testing how hot your car gets. Check it out here.
2. Storage for Boats, ATVs, RVs, and other fun rides
Can you have enough storage space? Never!
A carport is a great place to store ATVs, RVs, boats, and other fun vehicles that you don't want to leave outside and exposed. Just be sure that when you're choosing a carport for a boat or RV that there is enough clearance overhead. Carports are available in a variety of sizes and styles depending on your needs and your property.
3. Homey Pavilion for Parties and Projects
A carport can serve double-duty for parties and projects in addition to protecting your vehicles. For family gatherings, block parties, and birthday celebrations, pull in a couple of picnic tables or your patio furniture to enjoy some fun, food, and conversation without baking under the hot Texas sun. Have a big project in mind?
A carport will keep you cool in the shade while providing all the ventilation you could dream of for painting, staining, sanding, or whatever else you're working on.
4. Carports are Cost-Effective
So what about a garage? It really comes down to your specific needs and how much you want to spend. If you have large vehicles that you want to protect, a carport is MUCH cheaper than building a garage. Plus, you'll get more for your money with a carport than a garage (meaning more room for that boat AND space for projects!).
A carport is a great option to cost-effectively protect your car, truck, and recreational vehicles. Plus, a carport provides a ton of flexibility beyond just parking your vehicles. Projects, parties, and even extra playspace for your kids (outside but out of the sun!) are all great uses for your new carport.
When considering a carport, it's important to choose one that fits your needs. Farm+Yard has several carport options and we are happy to walk you through each style to find the perfect one for you.
We even offer FREE property evaluations so you can be sure that a carport will fit where you need it. Click here or call (254) 537-1014 to schedule your free yard evaluation.

What are you parking under your carport?