Metal Carports & Buildings
With 15+ different colors to choose from, you can customize your structure just the way you want to add value to your property.
DESIGN YOUR METAL BUILDING
Metal Buildings & Carports
at Farm + Yard
We are proud to partner with Eagle Carports to offer a  variety of styles and sizes of metal carports, garages, barns, and RV covers here at Farm + Yard. Protect your car, boat, and other valuable belongings from the elements, with a convenient steel structure.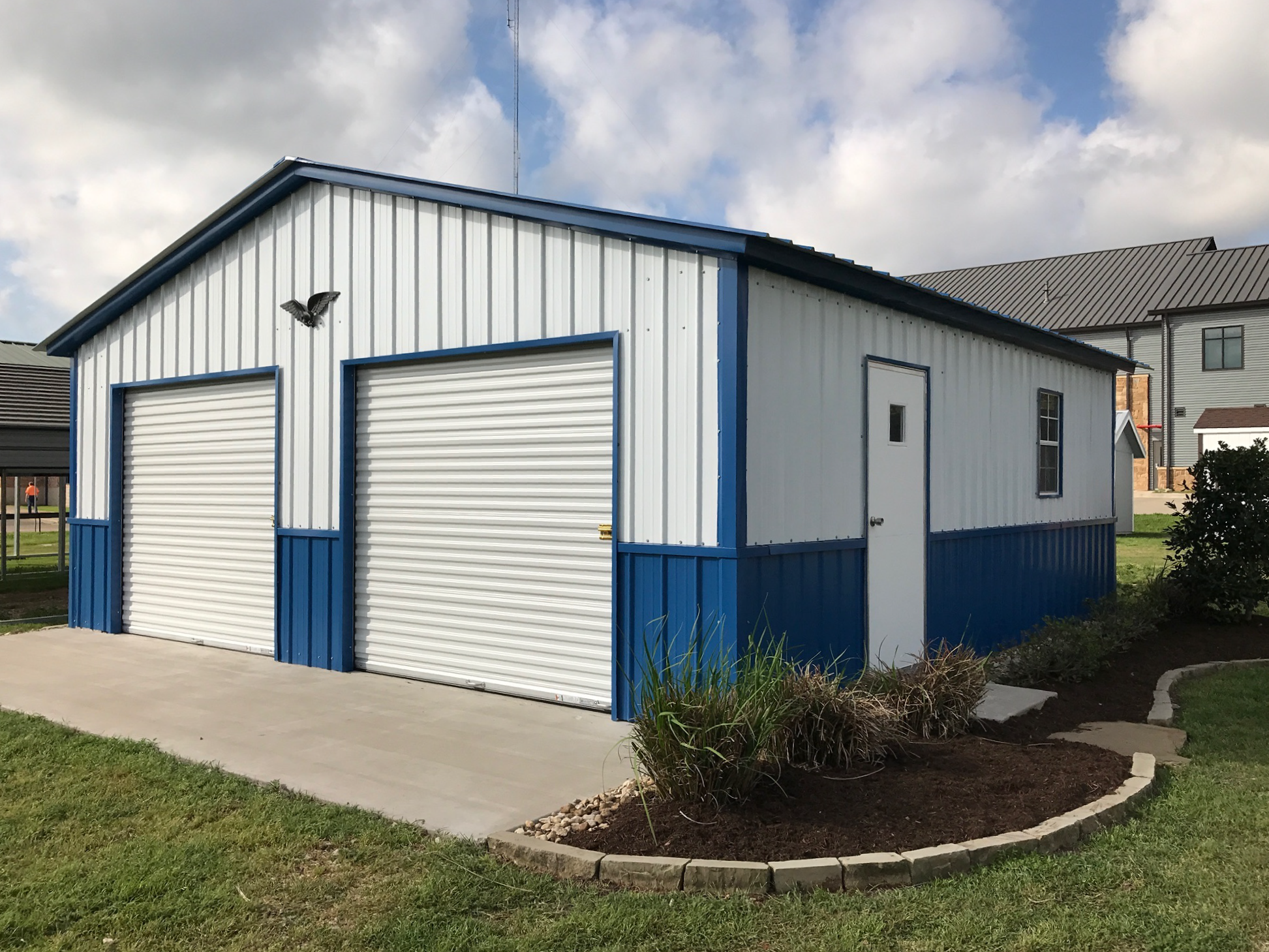 Amazing experience and customer service. Product was top of the line and look forward to doing business with them again!
Build Your Own Dream Building
Make your metal building or carport uniquely yours. Use our online 3D builder to customize the style, dimensions, color, and all the upgrades you want. 
start customizing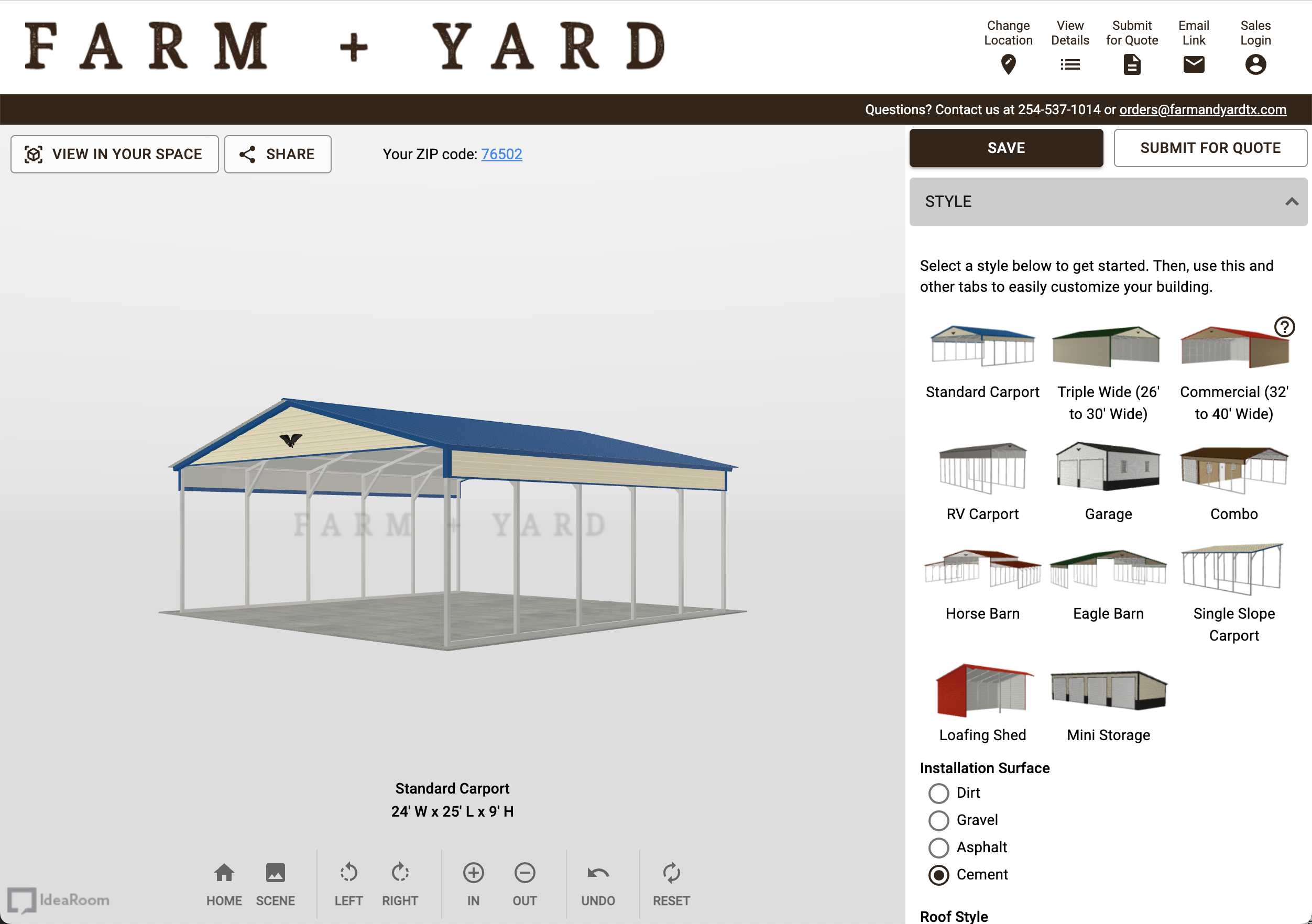 Frequently Asked Questions
What is the difference between a standard and a triple?
The difference is pretty simple. Our triple wide carport and RV cover is simple 1/3 of the size larger than the standard. Which means more space and more working room for your things. Some of the construction is also heavier duty due to the triple wides being so wide. 
Do your metal structures come fully assembled?
In most cases, no. Our metal buildings are installed by seasoned professionals who assemble your structure piece by piece right on your property. And when we leave, you'll have a beautiful new structure that is move-in ready.  
Do you offer financing on your metal structures?
Yes! Through our partnership with Eagle Carports, we're able to offer financing options 
on most of our metal structures! 
Do I need a permit for my metal structure?
That varies by town and municipality. Check with your local code office to see what the requirements are for your location. They will provide you with an application for a permit if needed and let you know the process you need to take. If you have questions about the size and details of your structure, contact us – we'd be happy to help!
How long will it take for me to get my metal structure?
The timeframe varies on time of year, our workload and the type of building you are purchasing. At the time of your order and deposit, we will provide an approximate time frame for delivery. Give us a call anytime to ask what our current lead times are for your location and structure!
What information do I need to bring into purchase my metal structure?
Working with Farm + Yard is a breeze! Come with an idea of the size and style you need, and we'll plan the details with you. It's helpful to bring along a photo of the location where your structure will be placed. If you have specific requirements such as colors or Home Owners Association rules, bring that information with you as well. We're happy to chat with you over the phone or in person.
To place an order for your structure, you will need to provide a deposit of 10% to 15% of your purchase. We accept all major credit cards, checks, and cash. 
What is the wind rating on my metal structure?
Most of our metal structures are wind rated for at least 120 mph winds. For an additional cost, we can have engineered stamped plans made for your structure and construct your building accordingly. Typically these buildings can withstand up to 140 mph winds. 
What kind of foundation do I need for my metal structure?
For the longevity and safety of your metal structure, we recommend having a hard, level surface for your building  foundation.  We recommend a stone base with #2 crushed stone (unwashed). This stone pad should be 3 to 5 inches thick, leveled, and tamped. The stone pad should be at least 1 foot (12 inches) wider and longer than the footprint of your structure, leaving at least 6 inches on either side of your metal structure. For larger garages and barns we highly recomend pouring a concrete slab for optimal performance of your structure. We're happy to recommend one of our trusted foundation contractors to assit you in putting in a gravel or concrete foundation.
How many people does it take to install a metal structure?
It really depends on the size and style of the structure. Most times however our crew consists of 3-4 trained proffessionals. Most installations are completed the same day they are startd with the exception of some of our larger buildings. 
Does my metal structure come with a warranty?
Yes! Eagle offers a 90 day top to bottom workmanship warranty and the metal on the actual building has a 20 year warranty on it.