Back-to-school is in full swing! Schedules are busier than ever and we're all running around more but that just means that there's no better time to really enjoy those precious moments at home, especially in your outdoor living space. With cooler temps and shorter days ahead, you might think that you're destined for more time inside but that simply isn't the case. Instead, you can make your outdoor living space into an extension of your home that you can enjoy all year round.
We love to spend time on our patio and in our backyard. It's a great spot to entertain or just slip out for a few minutes of quiet at the end of the day. Extending a patio into the backyard creates more room for an outdoor living space that's perfect for relaxing, hanging out with friends and family, and playing with your kids.
With these simple tips, you'll be on your way to turning your backyard into a fun, comfortable spot that's home but not inside your home.
Here are the best ways to enjoy your outdoor living space:
1. Make it homey
I like to think of the patio as an extension of the home…another room of the house. When you consider the outside bonus square-footage, it really does turn into a special place where you want to spend time with your family. You can easily turn your backyard patio into a homey outdoor living space with just a few simple additions.
First, choose outdoor furniture that fits with how you want to spend your time outside. If you love to relax with a good book and great conversations, then a pair of comfy adirondack chairs are perfect. Does your family love game nights? Classic terrace seating with a table will keep the board in reach and everyone eager to keep playing.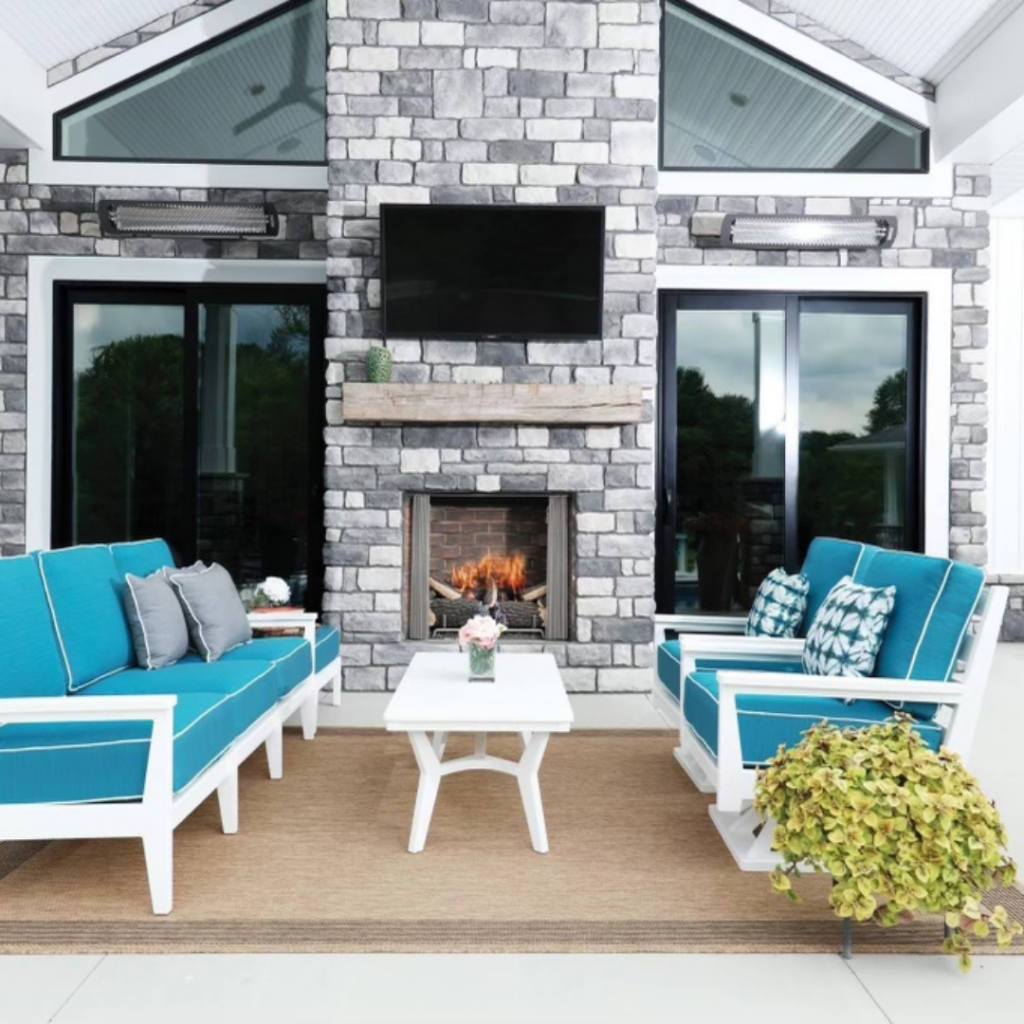 Next, add lighting and decorations. Hang string lights and lanterns to create instant ambiance, then add citronella candles and tiki torches to keep the bugs away. Set up a Bluetooth speaker and a couple of potted plants and you've basically made your very own staycation — so relaxing!
2. Invite friends and family over
We can't say it enough — there's just something special about gathering all the people you love in one spot and enjoying each other's company. An outdoor living space is an awesome place to host a get-together. It provides plenty of room for a crowd and less worry about spills and tracking muddy footprints inside. Once you've sent out the invitations, set up for your outdoor party with plenty of food, drinks, and a game or two. Don't forget to put out a few 'nice-to-haves' like bug spray and sunscreen, too!
Need a recipe? THIS IS MY FAVORITE HOMEMADE BBQ BURGERS RECIPE.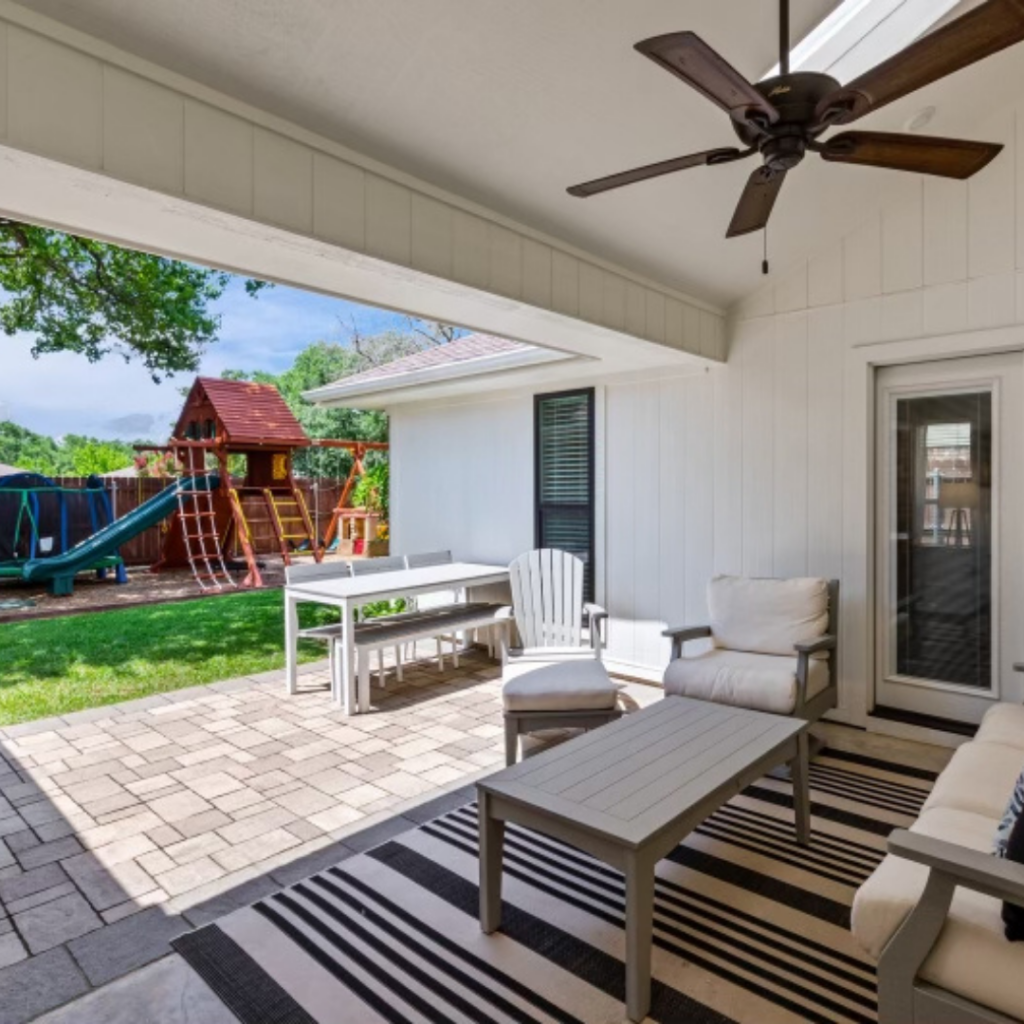 3. Fun for kids (and adults, too!)
If you're hoping to have any conversations with other adults, have some kid-friendly activities ready to go! A backyard playset is perfect for kids of all ages but you can also keep it simple by setting out a couple hula hoops, a few balls and letting kids do their thing. (It's amazing to see their imaginations in action with just a few prompts.) Don't forget to stock up on fun, healthy snacks that kids love like graham crackers and sliced fruit, too!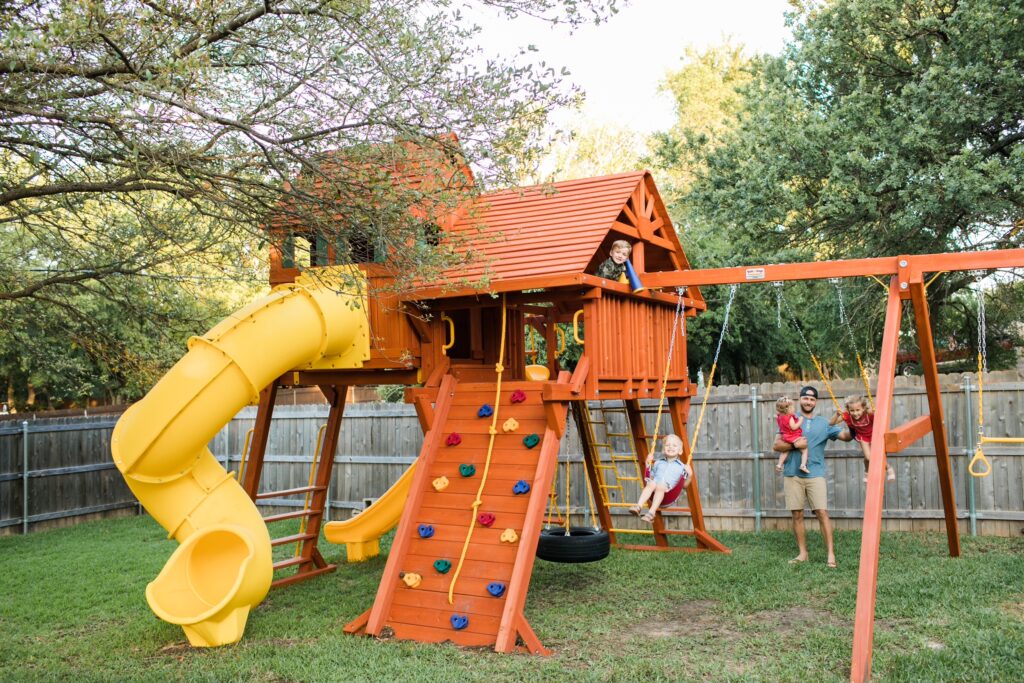 Knowing what will fit perfectly in your backyard can be tough sometimes. That's why we offer a FREE yard evaluation, so you can be sure everything works for your specific situation. Click here to schedule a free Yard Evaluation or contact us by phone: (254) 537-1014.
No matter the time of year, your backyard can be an inviting place to spend time with just a few additions and a little prep. Whether with family and friends or just a few quiet moments with your spouse, you'll love the comfort of an outdoor living space that's just a step out your backdoor.
Now here's the real questions:
Are you Team Tiki Torches or Team String Lights?