As we start to wind down for the year, I'm thinking more and more about how grateful I am. If this last year and a half has taught us anything, it's to appreciate our family, our friends, and our community. I truly have a fresh perspective. And, boy, am I thankful!
Many of us couldn't share a table with our loved ones on Thanksgiving last year. Instead of getting ready for a long weekend at grandma's filled with family, food, and football or inviting friends over to watch bowl games and eat leftover pie and turkey sandwiches, we did the best we could with phone calls, video chats, and mailing cards and gifts.
And so this year I'm feeling especially grateful to gather with my family, to give thanks, and enjoy being in the company of good friends.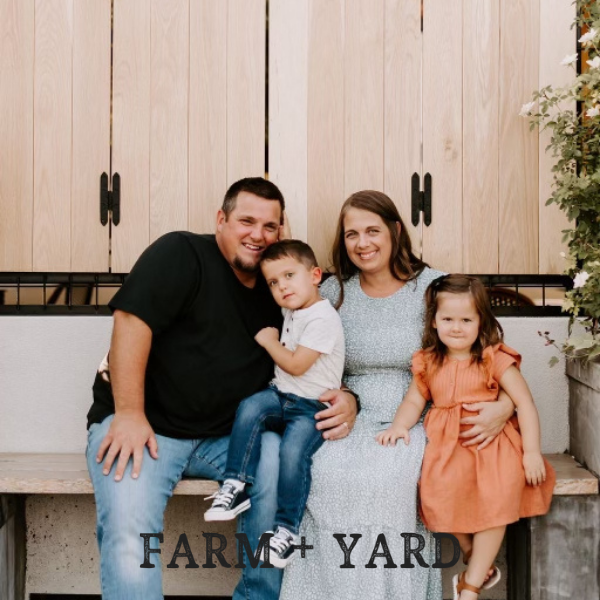 Maybe it's me getting older, or maybe it's the time of year, but I'll be carving out time to reflect on all the wonderful things in my life. Sure, we all have our ups and downs, but for the most part, life is pretty darn good. We have all the perks of the modern world, meanwhile, there are still people in this world without clean water, roofs over their heads, basic medical care. Really makes you think!
So this year, I'll be thinking hard about how grateful I am and how I can take time to show my appreciation for my family (especially, my Rosa), my friends, my community, and the work that I love doing. I hope you join me in taking time to reflect on all the joys in your life and find a way to share your joy with others.
Sincerely, from all of us here at Farm + Yard, thank you for being a part of our community.
We hope you enjoy a Thanksgiving and Christmas season full of family, joy, and a fresh appreciation for all that we have and all that is to come.
What are you thankful for this year?
Also (I need to know!), are you Team Apple Pie or Team Pumpkin Pie?