The best part about talking about a greenhouse is that you get to use words like photosynthesis and inferred energy, which probably makes our 8th-grade science teachers happy. Just kidding!
A greenhouse is a grower's best friend. Not only can you maximize your home garden and provide food for your family, but you could potentially branch out to selling your products at a stand or at your local farmer's market.
What does a greenhouse do?
A greenhouse creates an environment for plants to grow and thrive. A greenhouse mimics the climate plants normally need to be successful so that growers can maximize both ends of their growing season.
How to make a greenhouse functional:
1. Keep it warm and sunny
Mostly, you can rely on the sun for light and heat, but sometimes new plants need a little encouragement to germinate. When you have a warm, well-lit environment, you (the grower) can control the beginning of a plant's life a bit more. You can add water and nutrients to give plants a great jumping off point.
Oh, and you need heat to be comfortable too.
2. Let air circulate
Having a fan nearby mimics the external environment your plants will one day live in. When you have some air circulating (either by opening a door or window or by investing in an oscillating fan), you can strengthen your plants' root system and prevent plants from becoming "leggy."
Who likes leggy plants anyways?
3. Create a useable workspace
This is probably the easiest thing to do. Sweep out your greenhouse and clear off the workspaces. Go vertical for storage and use the entire space you have.
Make sure that everything you use on a daily basis (heat mats, starter trays, watering can, etc.) are handy and accessible.
4. Make it pretty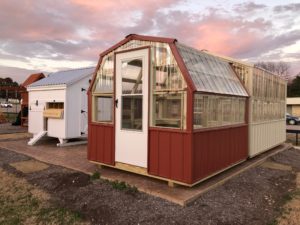 Greenhouses are functional tools on a property, but that doesn't mean they have to be boring. Hang some twinkle lights inside. Put a welcome mat at the front door, and keep the floor swept.
5. Stay organized
Install shelves. Shelves will be the lifesaver you need to stay organized and efficient. On these shelves, display your starter plants and have your tools at arms reach. Install hooks with hanging buckets for your tools. Hang a compost bin for scraps. Hang heavy-duty string or rope to dry herbs or pin-up gardening gloves.
Keeping your greenhouse organized and functional will make you more excited to grow plants and veggies, especially when the weather (or season) is behaving. If you have a greenhouse on your property, make use of it. You'll be able to maximize your efforts and the land you have.
Planning a yard evaluation
Sometimes it's hard to know what will fit perfectly in your yard. We offer a FREE yard evaluation so you can be sure you have the perfect spot for your new greenhouse.
Click here to schedule a free Yard Evaluation or contact us by phone: (254) 537-1014.