Sweet autumn smells are starting to waft wherever you go these days. The kitchen is brimming with apples, pumpkins, and warm cinnamon spices while outside the cool breeze brings the scent of fireplaces and fire pits burning away — it's the best time of the year, especially after this brutal Texas summer! And spending time on your back patio for fall is my favorite!
We love to celebrate the changing of the seasons by freshening up our decor inside and out. Outdoor fall decorations create a warm invitation for family and friends and makes sitting out on the patio to soak in those last moments of sun so enjoyable. We usually keep it pretty simple with extra seat cushions, blankets, and candles but sometimes it's fun to go all-in with hay bales and pumpkins.
If you're ready to embrace the changing of the seasons, here are 3 ways that you can decorate your back patio for fall and create an inviting space for family and friends.
3 Ways to Decorate Your Back Patio for Fall
1. Set the ambiance with soft lighting.
String lights create instant ambiance, and we love them all year round. Whether you choose a simple set of round lights or lots of tiny twinkling lights, the soft lighting will be enough to spark conversations or listen to music. For more lighting, swap out this summer's tiki torches for a variety of pillar candles. Candles provide the perfect amount of light for reading or game playing without giving up that cozy ambiance.
2. Make it cozy!
Get that cozy fall feeling by adding comfy pillows to your outdoor patio furniture. Whether you have a classic terrace seating or a couple of Adirondack chairs, adding fall-themed cushions will beckon your family and friends to relax and stay awhile. Keep a few soft blankets handy in a covered basket or storage bin for when those temps drop and the breeze kicks up.
I know Rosa loves having a blanket nearby to get warm and cuddly with the twins.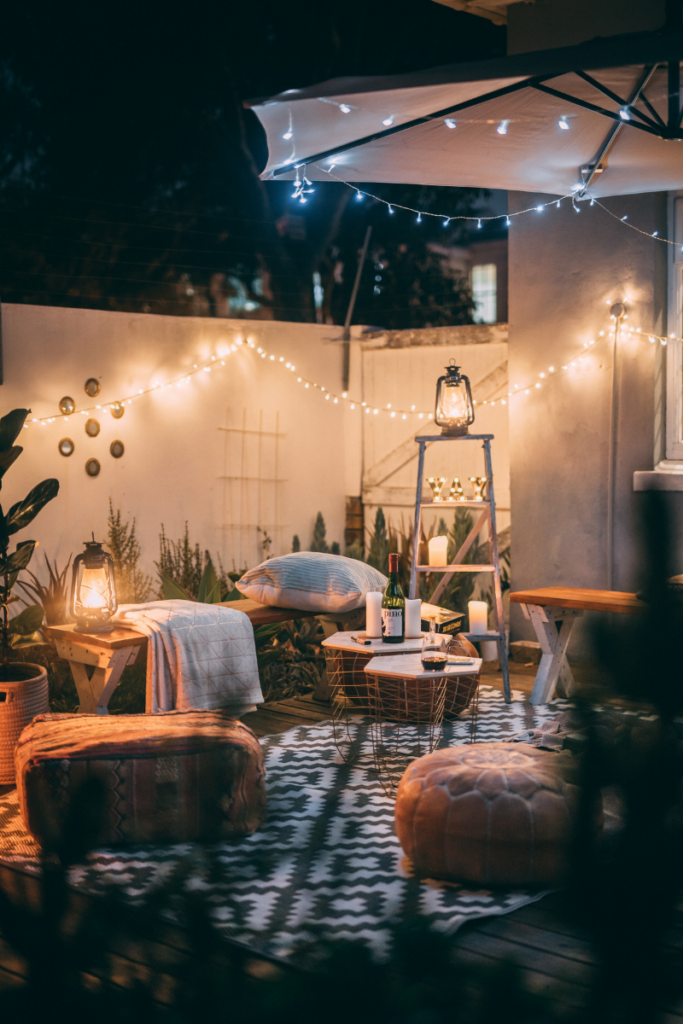 3. Add seasonal plants and a wreath to the back patio for fall.
As your summer flowers start to fade, plant hardy mums, asters, and black-eyed susans in decorative pots and planters around your patio. A variety of pumpkins and gourds make interesting table arrangements while corn stalks and hay bales propped in corners add a special touch. Extra points for a fall-themed wreath on the backdoor!
My best tip? Have fun with it! But if you need some extra inspiration, we have loads of ideas on our blog plus a range of patio furniture available to suit your needs and space.
If you have any questions, let us know! We offer free estimates to make sure that everything from storage sheds to swing sets to patio furniture works for your specific situation.
Click here to schedule a free Yard Evaluation or contact us by phone: (254) 537-1014.
Are you planning on going "all in" with Back Patio Fall decor this year
or keeping it simple?