Amid the holiday cheer are the holiday sighs that come with hauling Christmas decorations out of a dozen nooks and crannies. The garland and wreaths, the nativity scene and advent calendar, and, oh yeah, that giant blow-up Santa that may or may not have a hole in it… For 11 months of the year, it's all "out of sight, out of mind" while crammed into boxes and shoved into closets and crawl spaces. This year will be different. This year, you will stay organized through the holiday.
Every year you promise yourself that you'll get organized and store everything properly… and year after year you're hunting then hauling everything out. The good news is that since your decorations and blow-up Santa are already out (Merry Christmas!), you have a chance to really do it right this year.
Join me in making this promise to yourself: THIS WILL BE THE YEAR I DON'T WAD MY LIGHT UP INTO A BALL OF FRUSTRATION.
A storage shed is the perfect solution to your holiday organization needs. Shoot, a shed is the perfect solution to really ANY of your organization and storage needs.
Sheds give you a chance to get organized, create real storage solutions, and a way to declutter your house without getting rid of sentimental or seasonal items.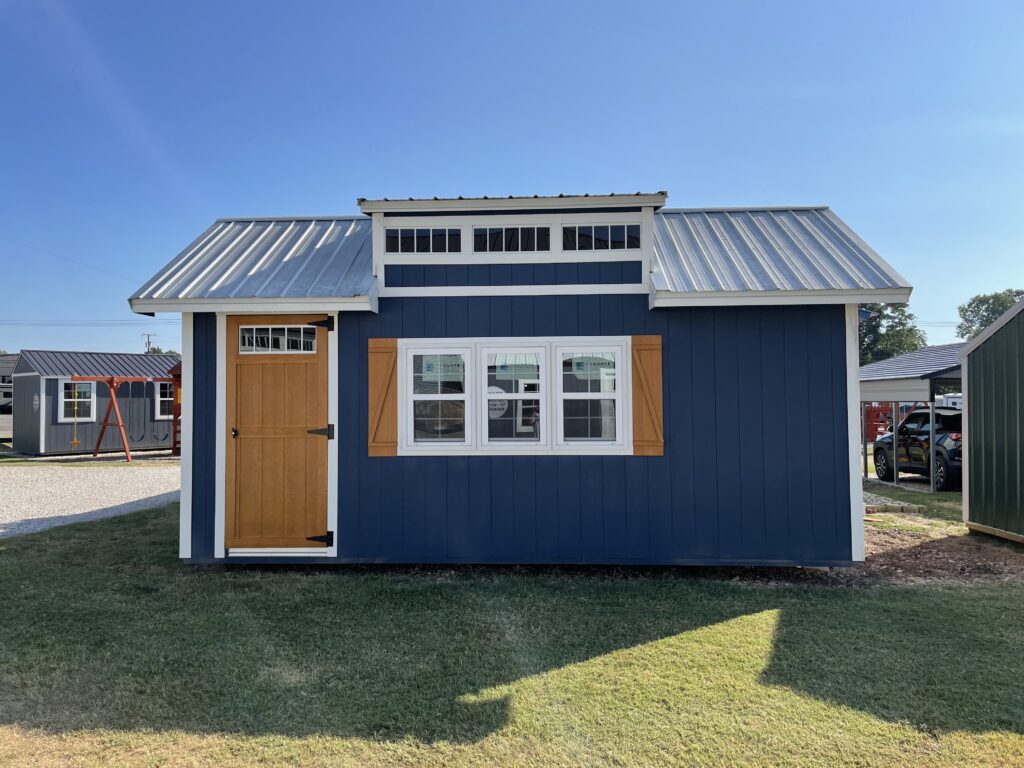 Here are the 3 ways to stay organized through the holiday:
1. Get Organized
First, decide what you're going to send out to the shed. Holiday decorations are a no-brainer but also consider seasonal sports equipment, outdoor cushions and decor, and extra card tables and chairs for when friends and family fill your home. Tools and light equipment are also excellent items to keep in a shed but keep in mind you don't want your Christmas stockings nestled next to your weed whacker. So first decide what type of items you want to store together in your shed.
2. Create a Storage Shed System
Instead of jamming everything in and shutting the door, create an organization system for your shed. This will make it easy to find whatever you need and keep everything in good shape.
Install shelves with various shelf heights to accommodate a range of items.
Add peg boards to hang decorations, string lights, tools, and fishing rods.
Label every box clearly and then keep a stack of labels and a Sharpie on hand for anything new or that you missed.
Think about how you're going to access the items throughout the year so they are placed in a good spot.
3. Move Your Clutter
I know decluttering is all the rage, but to be honest, notalgia is a perfectly fine reason to hold on to a set of dishes, a baseball card collection, or even some of those trophies from high school. Whatever it is for you, relocating what others might call "clutter" to the shed will free up space in your home (and stop the side-eye from your spouse). #HiRosa
Now, that being said, there are always things you can donate or discard. Toys your kids have outgrown, tools that you no longer use, or that stack of magazines overflowing the rack can all see their way out of your house and into the donation or recycling bin.
Installing a storage shed on your property is about the easiest decision you'll make this year. When you're ready, our team will walk you through every step of the way, from a free yard evaluation and personalized recommendations all the way to expert delivery and installation.
Click here to schedule a free Yard Evaluation or contact us by phone: (254) 537-1014.
Do you go big and bold with outdoor decorations or
keep things more modest?