Just like dogs and cats become part of the family, so do horses. It's important to care for them, just like you would any other member of the family. Yes, horses are a big responsibility and require some elbow grease, but trust me, it's worth it.  And a horse barn will only make your life easier.
At Farm + Yard, we love animals, especially chickens and horses, and we want to make sure taking care of your animals is easy and fun.
Taking care of a horse doesn't just mean brushings and feedings. It's about quality of life. It's about the relationship you form with the animal. I mean, sometimes it's easier to vent your frustrations to a beautiful mare than it is to your boss. But remember, horses like calm environments, so keep your venting to a minimum. #AmIRight
Here are the 4 perks of having a horse barn: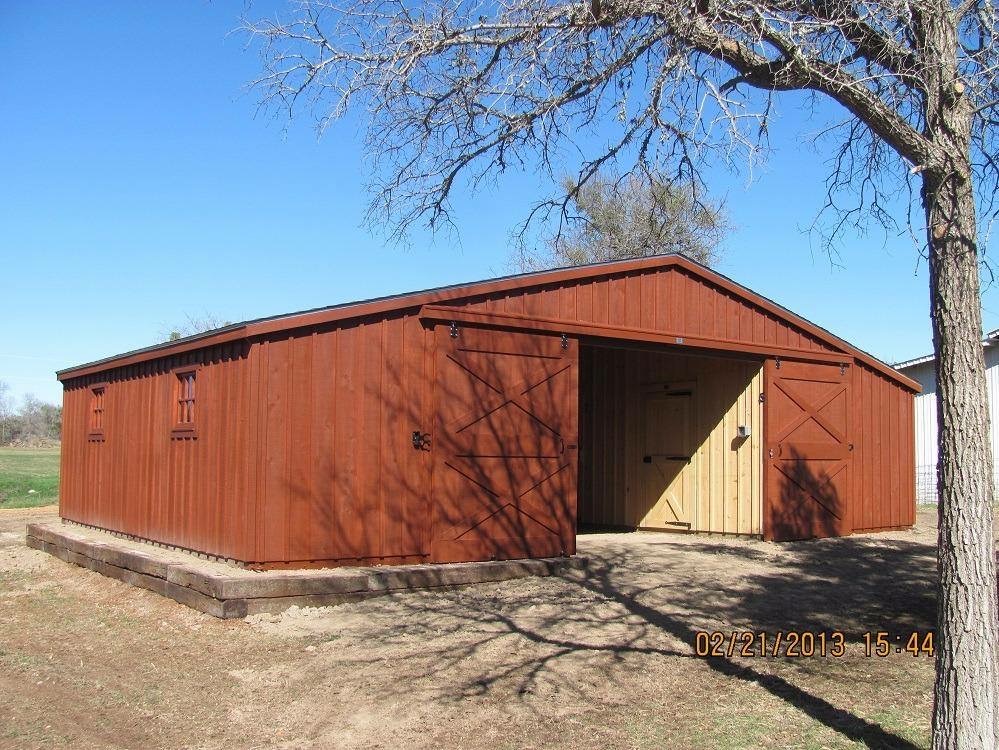 1.  No more boarding fees.
With your own horse barn, you can now keep your animal on your property with you. Having your animal and all of your gear in one place will make your life much easier.
Boarding fees can be hundreds (sometimes thousands!) of dollars each month, but with our financing, you can own your own horse barn in just a handful of years.
Plus, who doesn't like having their horse on their own property? This one is a no-brainer!
2.  Organized gear
Many horse barns have a little extra storage space for all of your riding gear, maintenance equipment, food, and all the other pieces that go into keeping a happy and healthy animal.
Wouldn't it be nice knowing that everything you need – from tack to hay – is all under one roof!
3.  More control of the environment
When you have your own horse barn, you can control so much. Not only can you protect your animal from harsh and unforgiving weather, you can control the temperature of older animals too.
When you have a horse that is sick or injured, you want to make sure they have the best environment possible to recover.
4.  Decorate for the holidays
The holidays are just around the corner, and nothing is more festive than a decorated horse barn. String up some LED lights, ribbons, and stockings (all out of reach, of course!) and bring a classic pine into the barn. You'll be feeling jolly in no time!
Just remember to be cautious when you're waiting for Santa. Some holiday decorations, like poinsettias, are poisonous to animals and humans. Cords and wires can become hot and need to be unplugged at the end of the day.
Will a horse barn fit in your yard?
Sometimes it's hard to know the right fit for your yard, which is exactly why we love coming to your home to make a FREE yard evaluation.  We can help you decide on the perfect spot and size for your new horse barn.
We even have a couple barn styles for you to look at and walk through when you come visit. Check out our list of FAQs to answer any other horse barn questions.
Click here to schedule a free Yard Evaluation or contact us by phone: (254) 537-1014.

NOTE: Usually it only takes one delivery team member to delivery your horse barn with specialized trucks and trailers that allow us to maneuver into your pasture or yard and place the barn where you would like. It is imperative that there is proper clearance for our rig to get your horse barn into the correct location.