This Texas heat is brutal, but so is staying cooped up in your house with energy-filled toddlers and kids. Thankfully summer is here and that means lots of time to play outside with your kids. Hallelujah! We love to change up our backyard summer activities and plans depending on the week, the weather, and the ages of whoever is ready to play — our kids, their cousins, or friends from our neighborhood and church.
Whether you're chasing after toddlers who are just learning to walk or watching bigger kids sprinting and tossing a football around, kids of all ages love to be outside. But, sometimes they need a little motivation, and it's up to us grown-ups to set up a few, fun summer outdoor activities.
Enjoy these 4 backyard summer activities for kids:
1. Make a Splash with Water Games
Ever see the look of pure joy on a child's face when they splash in a puddle? It's priceless! You can bring that same fun to your backyard with a sprinkler and a water table. Sprinklers are an old standby that never gets old for kids. A simple lawn sprinkler gets kids jumping, splashing, and grinning from ear to ear.
Another fun option for toddlers that we loved introducing to our twins is a water table. This can be as simple as filling a wide plastic storage container with water and then adding a few spoons and cups for scooping and dumping or there are a variety of really fun, brightly colored options available, too. Either way, your kids will love splashing in the water and using the tools! Plus, they are practicing their motor skills. Win win!!
2. Play Games on Backyard Playsets
Few things are sweeter and more convenient for parents than a backyard playset and swing set. Just open the back door and let the fun begin! There are so many games you can play on a backyard playset — from pirates to make-believe animals to obstacle courses and whatever else you and your kids' imaginations dream up.
Plus, backyard swing sets tend to be a magnet for neighborhood kids, which means you get to enjoy watching your children have a great time and get to know their neighborhood friends, too!
Trust me, you want to be the "cool" house on the street.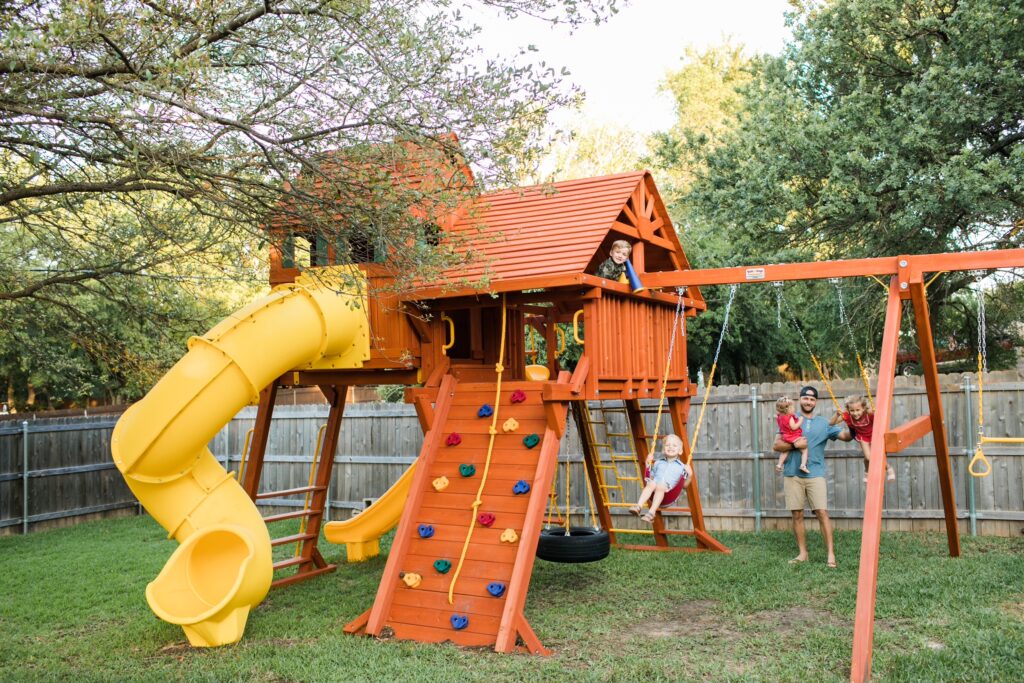 PRO TIP: If you want to combine the love of water and your backyard playset, add your garden hose to the water slide. You'll have a slippery slide and the levels of fun will skyrocket!
3. Create a Scavenger Hunt
I hear that scavenger hunts are all the rage these days, not just for children but adults too! It makes perfect sense since it's an easily adaptable activity depending on who's playing. A scavenger hunt for toddlers and preschoolers can be very simple and focus on counting, shapes, and colors. For example, find 5 flowers, 3 round rocks, and something blue.
When making a scavenger hunt for older kids, create a key or list and then ask them to arrange the rocks and sticks by size or add flowers and leaves to a nature scrapbook.
4. Enjoy a Picnic Lunch
After all this fun outside, your little ones are sure to have worked up an appetite. Set up a simple picnic by bringing out a cutting board with quartered PB&J sandwiches, snack crackers, veggie sticks, and some watermelon (of course!) to your patio table. An old blanket spread out on your lawn is perfect for toddlers who aren't quite steady enough for an adult-sized chair. Meanwhile the older kids will love not having to wash up to go inside for lunch!
However you decide to make memories in your backyard, we hope you have the set up that will work best for your family.
Sometimes it's hard to know exactly what will fit in your yard: especially the world's coolest playset or comfy patio furniture. We would love to help!
We offer a FREE yard evaluation so you can be sure that the playset you've been eyeing up or the patio furniture you'd love will work for your home. Click here to schedule a free Yard Evaluation or contact us by phone: (254) 537-1014.
In the comments, let us know your favorite summer activity. There's no such thing as too many good ideas.