Need Something Quick? View Our Inventory!
Why Farm + Yard
Our mission is to provide an exceptional customer experience and service, while offering high-quality storage sheds at a fair price that help you make room for the important things in your life! We are proud to be Texas' trusted dealer of Woodtex Storage Sheds and Garages.
Contact us to schedule a free yard evaluation or get answers to questions about pricing, available sizes, and style options.
Pricing & Delivery
Whether you are looking for a storage shed, garden shed, tool shed, recreational workshop, office space, garage, or cabin, we've got you covered. We deliver all over central Texas and beyond: The first 50 miles are always free… simply let us know where you need it and we'll get it there!
Our straightforward pricing is based on the size, style, and additional options you choose for your new structure. Contact us for pricing or stop by and browse our displays!
NEW! Woodtex now offers 90 Days Same as Cash, making it easier than ever to get your dream shed delivered as soon as you want it!
Military Discount – We appreciate all those who are serving or have served our military. Our 3% military discount on all our Woodtex sheds is just a small way to show our appreciation. We thank you for your service!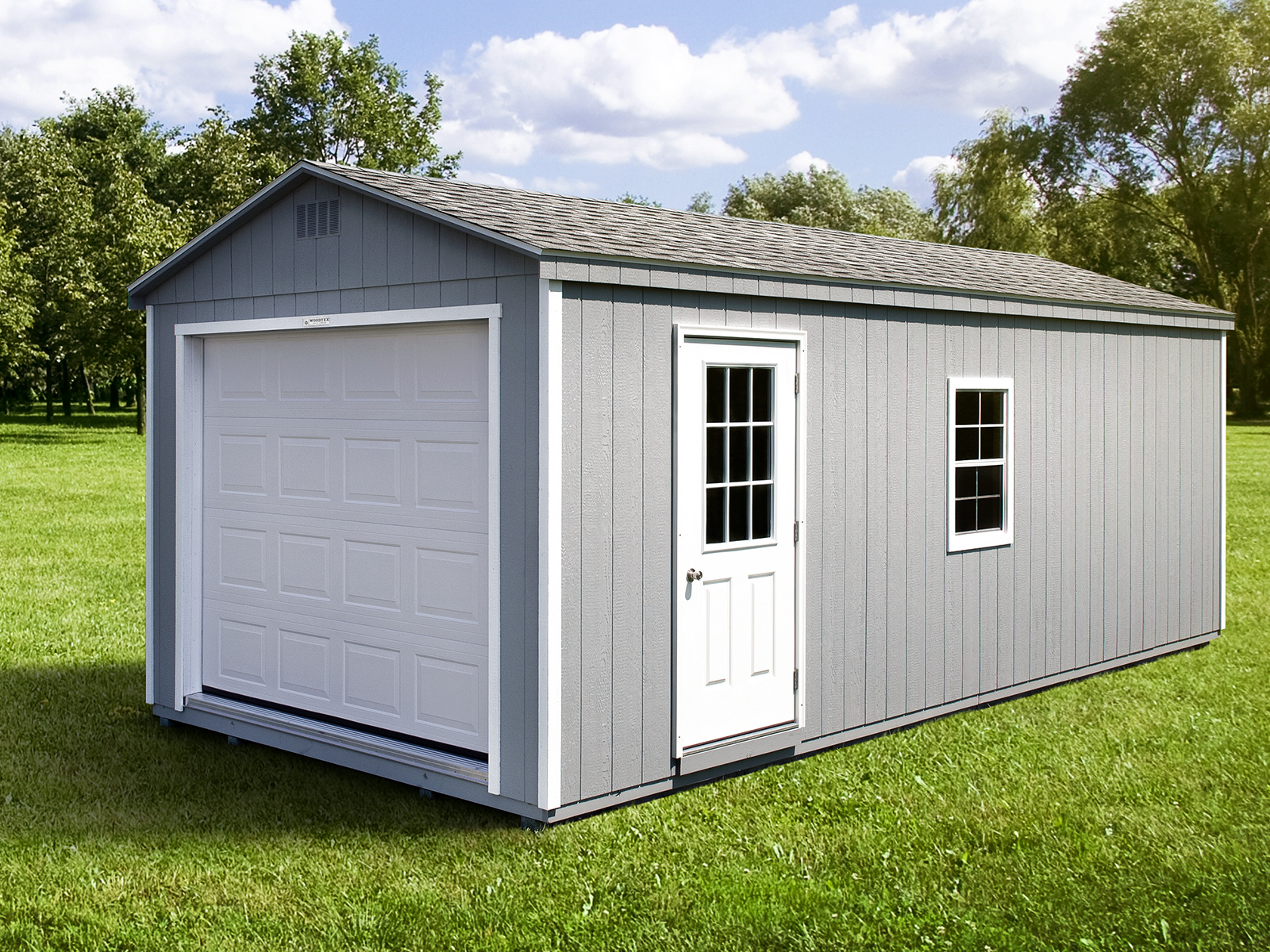 Woodtex was the most informative, courteous and reasonably priced of all the places I checked…They did an excellent job with the storage shed that I [purchased]…They were here when they said they would be and were very efficient in getting the job done. Alice from Waco, TX
90 Day Guarantee
We guarantee customer satisfaction in every way or your money back. Learn more about the Woodtex Guarantee.
Frequently Asked Questions
Do Storage Sheds come fully assembled?
In most cases, yes – your shed will come fully assembled. In some situations, we may construct your shed at your location because of maneuverability concerns. We'll complete the entire installation process on your property, leaving you with a fully constructed storage shed, ready for use. There is an additional upcharge for site-built structures. 
Do you have Financing for Sheds?
Yes! Through our partnership with Woodtex, we're able to offer financing options on all of our sheds! 
Do I need a permit for my shed or garage?
That varies by town and municipality. Check with your local code office to see what the requirements are for your location. They will provide you with an application for a permit if needed and let you know the process you need to take. If you have questions about the size and details of your structure, contact us – we'd be happy to help!
How long will it take for me to get my shed?
The timeframe varies on time of year, our workload and the type of building you are purchasing. At the time of your order and deposit, we will provide an approximate time frame for delivery. Give us a call anytime to ask what our current lead times are for your location and structure!
What are the advantages of prefab vs. stick built?
Overall, prefab structures are more cost effective to build for a number of reasons. They are manufactured in our facilities, which means there are no delays due to weather. Plus, our streamlined construction process allows us to be fast and efficient.
Prefab structures must also withstand the stresses of being moved from our shop to your backyard. Not only are our sheds and garages built to stand the test of time on your property, they are built to stand the test of transportation as well.
What information do I need to have when I purchase my shed?
Working with Farm + Yard is a breeze! Come with an idea of the size and style you need, and we'll plan the details with you. It's helpful to bring along a photo of the location where your structure will be placed. If you have specific requirements such as colors or Home Owners Association rules, bring that information with you as well. We're happy to chat with you over the phone or in person.
To place an order for your structure, you will need to provide a deposit of 35% of your purchase. If you are doing Rent to Own the first and last months payment is required to place your order. We accept all major credit cards, checks, and cash. 
What's the difference between buying a shed in stock and ordering a shed?
There is no difference in the price of your structure! Depending on the lead time, there may be a difference in delivery time, but not always. We're happy to deliver your dream shed directly from our sales center or fresh from the shop!
What kind of foundation do I need for my shed?
For the longevity and safety of your storage shed, we recommend having a hard, level surface for your shed foundation.  We recommend a stone base with #2 crushed stone (unwashed). This stone pad should be 3 to 5 inches thick, leveled, and tamped. The stone pad should be at least 2 foot (24 inches) wider and longer than the footprint of your structure, leaving at least 12 inches on either side of your shed. We're happy to recommend one of our trusted foundation contractors to assist you in putting in a gravel foundation for your shed. 
Another option is using cement blocks for a secure foundation. Customers may provide their own 2″ or 4″ thick solid cement blocks and Woodtex will provide pressure treated shims and level the building at no additional cost. The maximum blocking height is 24″. Blocking is installed at 6′ to 8′ intervals underneath each runner. 
How many people does it take to deliver a shed?
Usually, only one delivery team member will deliver your storage shed. We have a special, motorized machine called a Mule, which we use to move your shed into place with ease. Click here for more information about delivery. 
Does my new shed come with a warranty?
Yes! The best products in the industry are used to build your shed.  The LP Smartside siding used on all our sheds comes with a 50-year warranty. The LP Smart floor used on all of our shed floors comes with a 10-year warranty. Additionally, Woodtex offers a 1 yr top to bottom manufacturer warranty. Our metal roof comes with a 40 yr warranty and our shingle roof comes with a 30 yr warranty.