As homeowners, we're proud of our investment. We want to keep our yards and the exterior of our home looking nice and functioning in the best way possible. But sometimes, our stuff can take over.
Just think for a minute about all of the things we need to keep our home running and looking nice: yard equipment, holiday and seasonal decorations, extra furniture, spare parts, off-season clothes, donations, and more!
A shed is a perfect solution to keeping your home tidy and your yard looking well-kept too.
Here are the 6 ways a storage shed makes your holidays better:
1.   STORAGE!
A shed is the perfect storage solution! Sheds can hold more than your lawn mower and gardening tools. This is obvious. Plus, now that the holidays are upon us, just think of all of the space you'll get back getting that giant, inflatable, flashing snowman out of the shed and into the yard.
But storage goes beyond yard equipment or those skis you haven't used in two six years. Storage is about everything having its place and being able to find the gear you need to access on a regular basis.
Storage in the yard not only opens up garage* space but also compartmentalizes all of your possessions.
*If you don't have a garage, a storage shed is even more important for you.
Pro Tip: Clear out the clutter into a storage shed and ease the holiday pressure to de-clutter 15 minutes before everyone shows up. (You know what I'm talking about, right!)
2.  A Space To Do Hobbies
Have you heard of a "sheshed" – it's kind of like a man-cave but geared toward women? It's about creating the space to do the things that make you happy.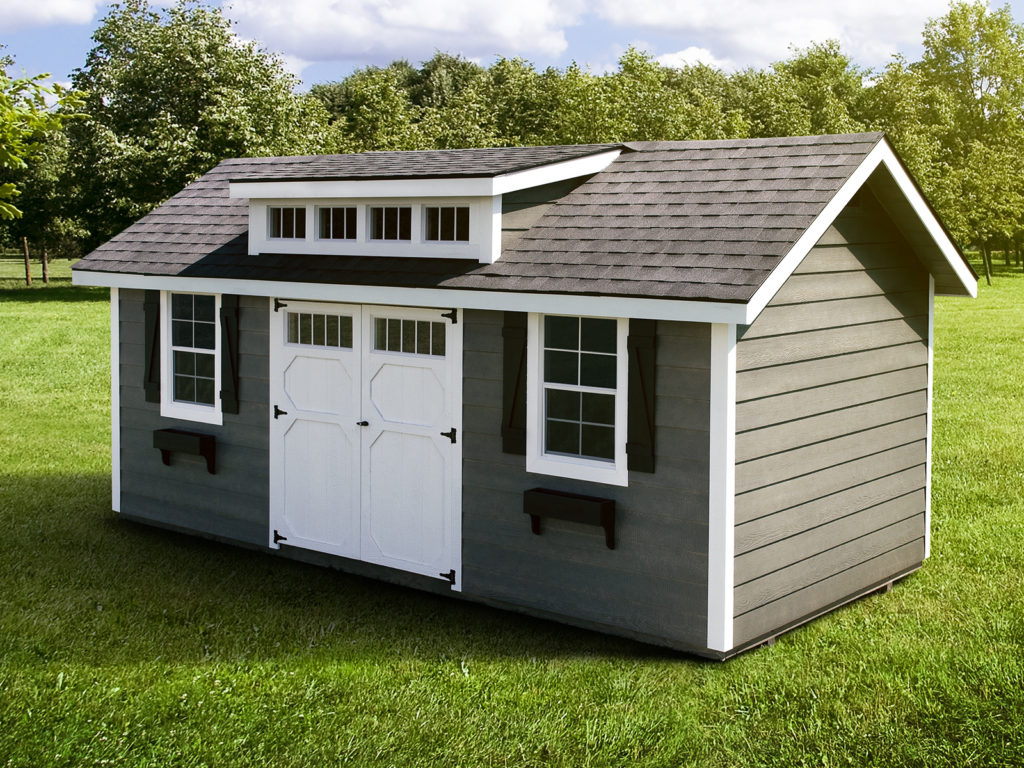 A shed is the perfect place to build a boat, spread out in a workshop, make crafts, become a master herb gardener, start painting, finish your novel, practice a musical instrument, or use as a getaway from your children who constantly want snacks. The ideas are limitless.
Or, you know, you could turn your shed into an office and become much more productive.
Plus, when the space isn't in use, it could be a great place for the in-laws to sleep when they come visit this winter.
3.  Add Value To Your Home
Think about it…is extra storage never a bad thing when you think about putting your home on the market. No. Never.
Creating a functional outdoor space adds value. Simple.
A beautiful storage space gives people the illusion that when they buy your home, they too will be organized, keep a neat yard, and grow delicious tomatoes. This makes your home stand out from the comps in your neighborhood and increases your chance of selling quickly.
4.  Save Time
You might not believe me now, but yes, a shed saves you tons of time! A storage shed gives you organization and restores your sanity on busy weekends. With a shed, you won't be rummaging through your messy, spider-web infested garage looking for that one thing.
You'll save time because a shed gives you one place to store your essentials. With shelves, cubbies, and peg boards, the interior of your shed can be tidy and useable. When you know where everything is, you'll save time and energy.
5.  Everyone Can Use A Backyard Storage Shed
A backyard storage shed doesn't just have to be for storage, although that is a great use. Giving the shed many uses means less screen time and more family time.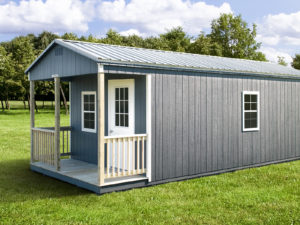 Get the kids out from behind their phones and involve the whole family in hobbies, like gardening, crafts, or carpentry. Plus, a shed brings the noise, mess, and creativity outside to flourish and explore, which is always a good idea. If you have a little one who still naps, this can be a game-changer!
Pro tip: wrap all of Santa's gifts in the shed and no one will ever know.  Shhhh!
6.  A Home for Outdoor Equipment
Let's face it, we all have sports equipment scattered around our house. A shed is a perfect place to store bikes, helmets, snowboards, kayaks, paddles, skis, camping gear, and any other awesome gear that you might be getting for Christmas.
Equipment is expensive. The last thing you want to do is replace your gear because it got damaged. A shed is the ideal place to keep your equipment dry, in a safe place, and easy to access.
Sheds bring so much value to your home, not only on a day-to-day basis but sheds make your home more enticing to future buyers. Uses for your new shed are endless; maybe you want to use your storage shed to store yard equipment or your middle-schooler needs to practice her tuba.  No matter what, having extra space is never a bad idea.
From November 24 – November 27, sheds are going on sale! 
Get 5% off any shed, any style, any size!
We'd love it if you come check out the sheds for yourself.  We are located just south of Waco, TX – just 10 min from Magnolia Market and the Silos and 5 miles south of Baylor, right off of HWY 77 in Robinson.  Any of our in-stock sheds can be delivered to your home within 7-10 business days.
Will a shed fit in your yard?
Sometimes it's hard to know the right fit for your yard, which is exactly why we love coming to your home to make a FREE yard evaluation.  We can help you decide on the perfect spot and size for your new storage shed.  Click here to schedule a free Yard Evaluation or contact us by phone: (254) 537-1014.