Do you ever want to send your kids out of the house to play but not worry about where they're going to go?
We all know that too much screen time isn't good for anyone. We also know that kids need to run and play and exert their energy without creating chaos in the living room. Again.
Oh hello, backyard playset.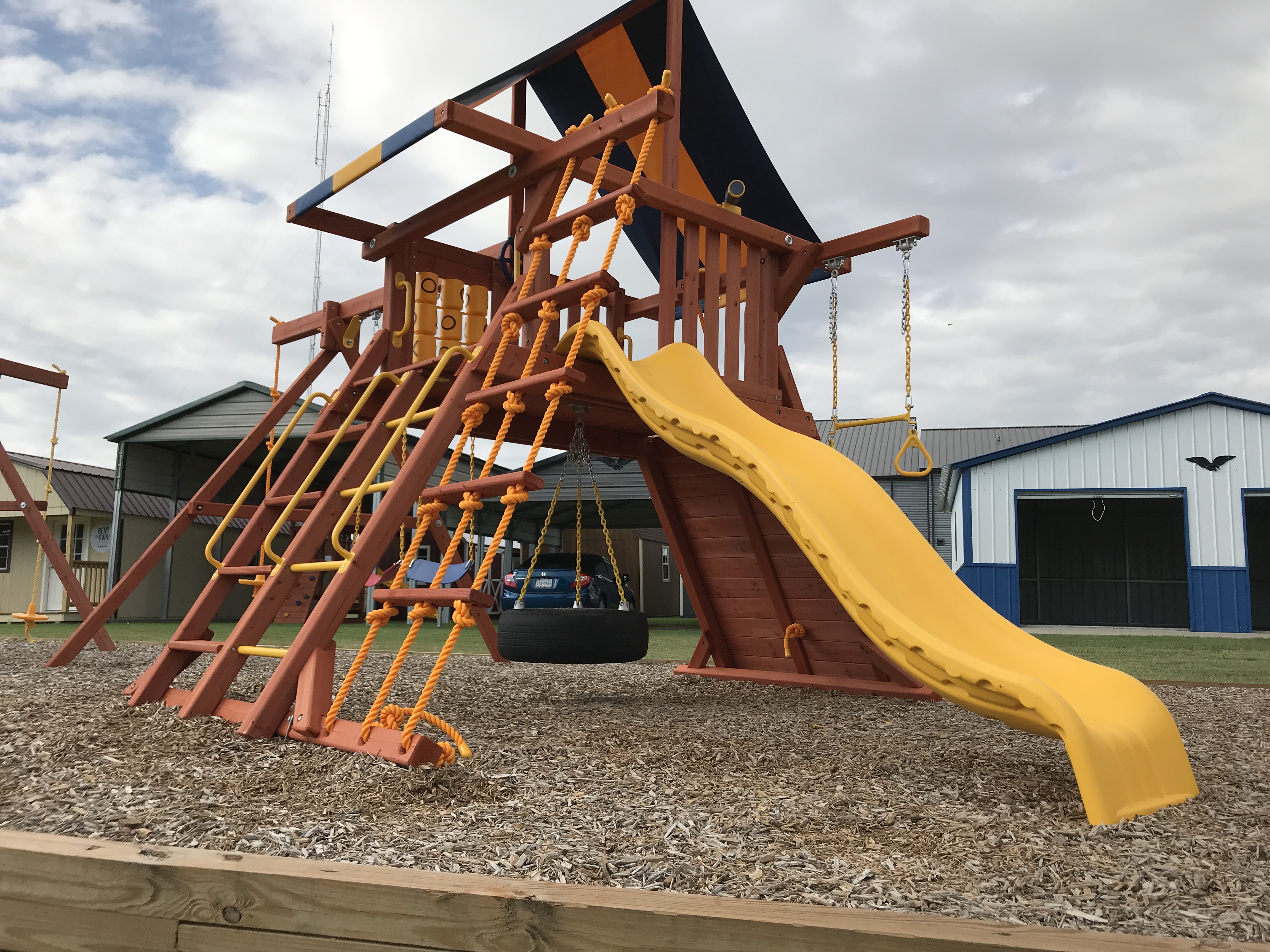 And, let's be honest, sometimes you just need a few minutes to regain your sanity while you know that your kids are safely playing in your own backyard.
Playsets and swing sets are the perfect solution to letting your kids have enough independence to scrape their knee and use their imagination but also knowing that they are safe and nearby.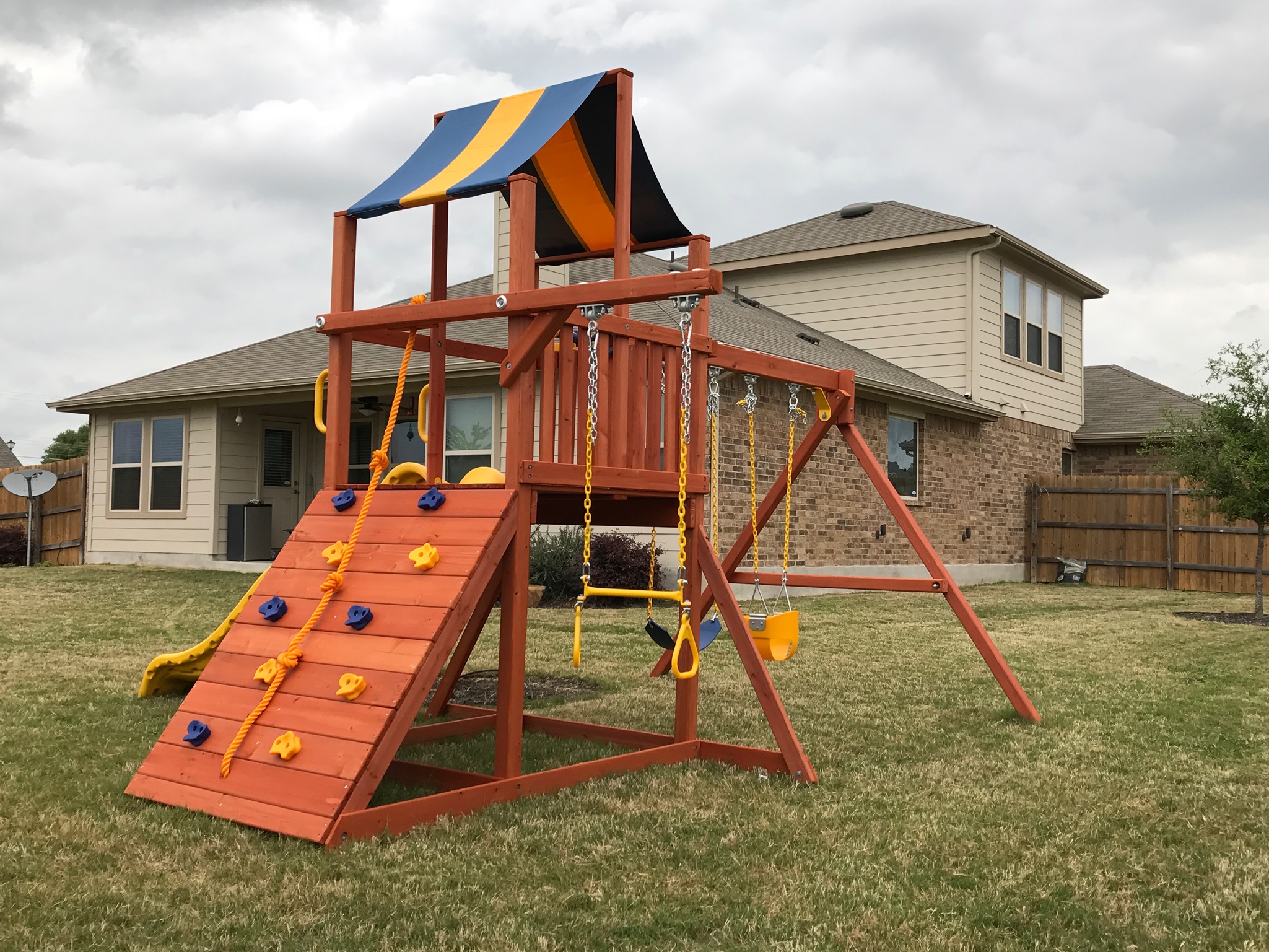 Children flourish when they are outside. Maybe it's the sunlight; maybe it's the fresh air; maybe it's the grass between their tiny toes. No matter what it is, being outside makes people happy.
Our playsets are built to last, professionally installed, and uses only top-quality materials.
Just one playscape provides hours and hours of play outside. Our playsets have tiny details that inspire creativity. While the unsafe but oh-so-fun "who can jump the furthest?" game might seem like a great idea at the time, we all know that imagination and play goes much further than that.
Think about it: playsets and swing sets are made for family fun. Even the big kids (I'm talking to you, Dad!) will spend hours in the backyard creating stories, spending quality time together, and making memories that will last a lifetime.  It's time to get outdoors and spend time together, as a family!
BONUS: a great playset will bring neighborhood kids to your home, which fosters community, a larger friend group for everyone, and inspires more play!
At Farm + Yard, we only sell Tree Frogs, a brand with an impeccable reputation and glowing reviews. Our playsets don't have the dangerous overhangs and are strong enough for adults. They use 100% premium cedar and redwood from certified mills with sustainable forestry practices, which means a beautiful finish, a natural resistance to insects and decay, and NO toxic chemicals.
Bring your kids to check out the models.

A playground set is the kind of gift that kids want to play on – not just today, but for years! Come on by; take a look at the sets we have on displays and see which one is just the right fit for your family. 
We are located just south of Waco, TX – just 10 minutes from Magnolia Market and the Silos and 5 miles south of Baylor, right off of HWY 77 in Robinson.
Of course, BRING THE KIDS and let them swing on the swings and slide down the slides to their hearts' content while we answer all of your questions.  And, if you want to keep this awesome gift a secret until Christmas Day, then mums the word.
When you purchase (or finance) a playset, you get free installation on any playset. (Our financing includes 90 days same-as-cash.)
Will a playset fit in your yard?
Sometimes it's hard to know what piece will fit in your yard, which is exactly why we love coming to your home to make a FREE yard evaluation.  We can help you decide on the perfect spot and size for your new playset.  Click here to schedule a free Yard Evaluation or contact us by phone: (254) 537-1014.