The Gambrel is a spacious garage shed with a traditional barn roof that gives plenty of headroom. Like all our garage sheds the Gambrel has a heavy duty tongue & groove Pro-Struct floor that will stand up to decades of use. The dual slope design of the Gambrel roof has been one of Woodtex's most popular and practical designs. It works really well for a garage, with the extra space allowed by the steep pitch of the lower roof section.
Contact us to get answers to questions about pricing, available sizes, and style options.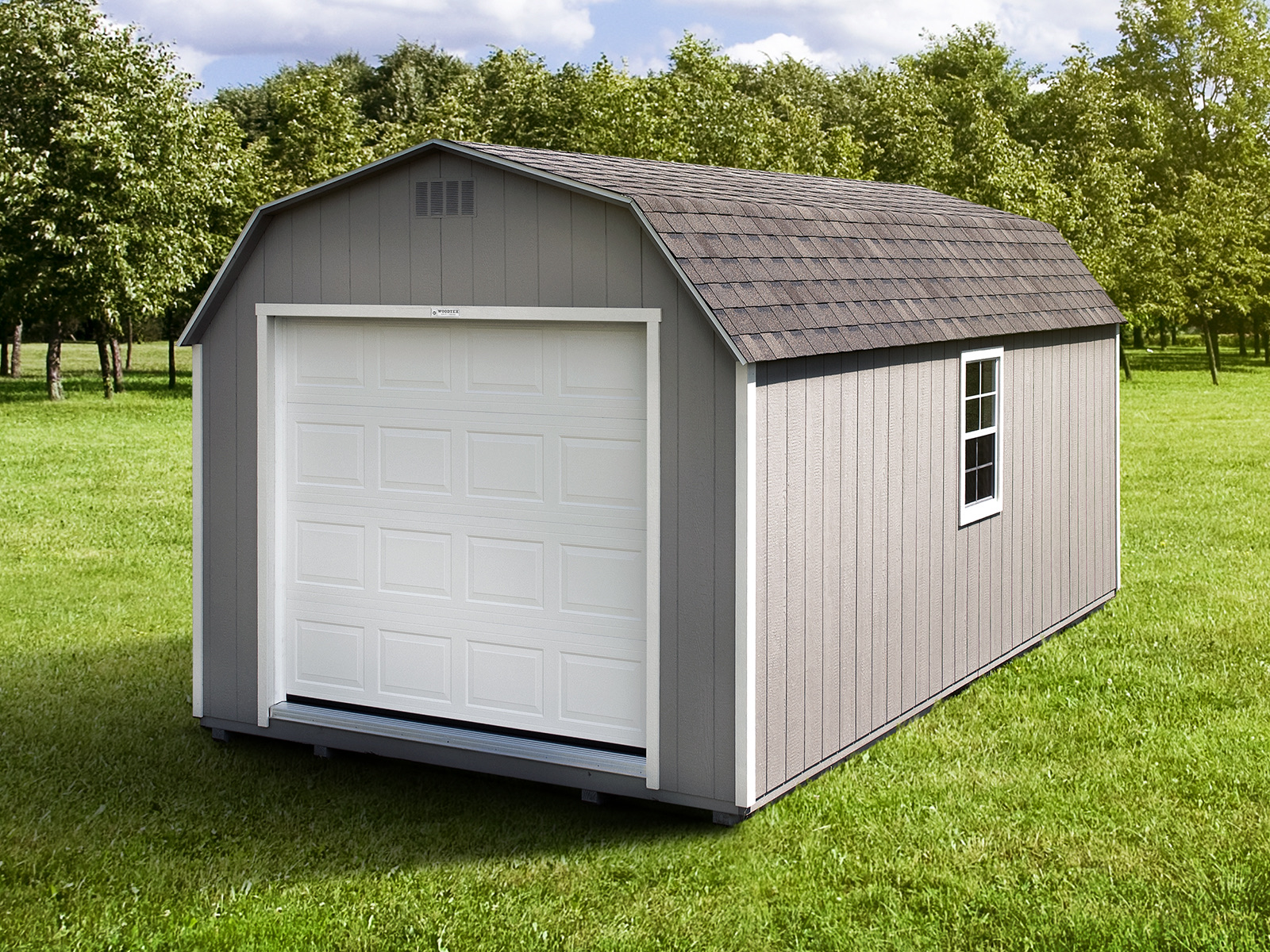 Sizes Available: 12x16 to 16x52
3/4″ LP® ProStruct® Shed Flooring (Protected against fungal decay & termite damage)
Flooring is also Eco-Friendly (no harmful chemicals used)
2x6 Floor Joists, 12″ on Center
4x6 Notched Runners (Treated for ground contact)
2x4 Studs, 16" on Center, with Double Top Plate
6' 6" exterior wall height
Window Trim
LP® SmartSide® Siding
Your Choice of Paint Color for Siding & Trim
2x4 Rafters, 24″ on Center
OSB Sheeting with Tar Paper
Your Choice of Lifetime Architectural Shingles or 29 Gauge Metal Roofing
36″ 9-Light Fiberglass Pre-hung Door
8x7 Overhead Garage Door (On 12′ Wide Garage)
9x7 Overhead Garage Door (On 14′ Wide Buildings and Larger)
Two 24" X 36" Sliding Windows with Screens
Two Metal Gable Vents
Overall building dimensions are approximate and may vary slightly. Building heights are measured ground to peak and widths are measured eave to eave.