The crisp air, colorful leaves, and Baylor Bears football only mean one thing: fall is here. I love this time of year, not only for family outings to the corn maze or to pick apples but because Mother Nature has given us some much needed reprieve from the excruciating heat of the summer.  Remember when my truck was over 100º just a few months ago?  We've traded in sweat-soaked t-shirts for our favorite hoodie.  This is the kind of fashion statement I can get behind!
Fall isn't all stepping-on-crunchy-leafs though.  You need to do some work to prep your yard for fall and winter.  Getting your yard ready now saves you time and hassle in the coming months.  It may not snow all the time here in Texas, but the temps do drop.  That means you won't want to get out and do any yard work in the dead of winter.  It's best to prepare now.
Here's how to prep your yard for fall and winter:
1. Clean up everything.
Rake the leaves.  Clean out the shed.  Till the flower and vegetable beds.  The last thing you want is to find a little critter who found a home under this year's tomato plant or that last pile of leaves you were to lazy to pick up.  #BeenThere
Pro Tip: use a tarp to collect everything you clean up.  This makes moving around the yard much easier. 
2.  Compost everything.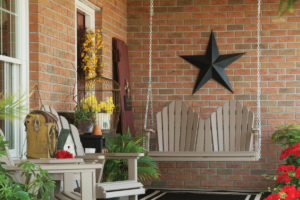 You just spent the time to clean everything out, so instead of piling up those attractive, brown, upright bags at the end of your driveway, start a compost pile.  You can add your old plants, weeds, leaves, and kitchen scraps to your compost pile.  In no time at all, you'll have just created new, nutrient-rich soil to add to next year's yard.
3.  Take one last ride on the mower. 
Nothing looks better than a nice buzz cut, even on your yard.  For the last mow of the season, give your blades of grass a short haircut.  Somehow, this actually helps the grass grow lusher for next year.  It's magic.
4. Prepare the deck.
No, I'm not talking to sailors who are going out to sea; I'm talking about cleaning your deck with a power washer.  Once it's clean and dry and pretty, give the deck a quick weatherproof stain to protect the wood from the upcoming winter.
5.  Get organized.
Fall is the perfect time to get your yard tools organized in a shed.  It doesn't matter if you're trying to clear space in your garage or if you just need to keep the tools away from the kiddos, a shed is a great option for any yard.  You could even add a pegboard or shelves for extra storage. 
I know what you're thinking: none of this sounds very fun.  I know, friend.  But if you want to have your yard looking awesome in the springtime, these are necessary jobs that need to be completed.  If you want to look like a pro when you're spending your Saturdays doing yard work, put on a tool belt.  No matter what, tool belts make you look like you really know what you're doing. 
We'd love it if you come check out the sheds for yourself.  We are located just south of Waco, TX – just 10 min from Magnolia Market and the Silos and 5 miles south of Baylor, right off of HWY 77 in Robinson.  Any of our in-stock sheds can be delivered to your home within 7-10 business days.
Will a shed fit in your yard?
Sometimes it's hard to know the right fit for your yard, which is exactly why we love coming to your home to make a FREE yard evaluation.  We can help you decide on the perfect spot and size for your new storage shed.  Click here to schedule a free Yard Evaluation or contact us by phone: (254) 537-1014.