Anyone familiar with Texas summers is likely to have learned a few tricks to help keep a car or truck cool: cracking the windows, finding a shady spot to park, and propping up a sunshade in your windshield just to name a few. Even so, letting your vehicle sit in 90+ degree heat for 30 minutes or more and the temperature in your truck can exceed 120 degrees! If you're dealing with Texas heat, you need a carport!
While there's not much more you can do when parked outside when running errands or while at work, installing a carport at home can provide significant comfort at a reasonable price.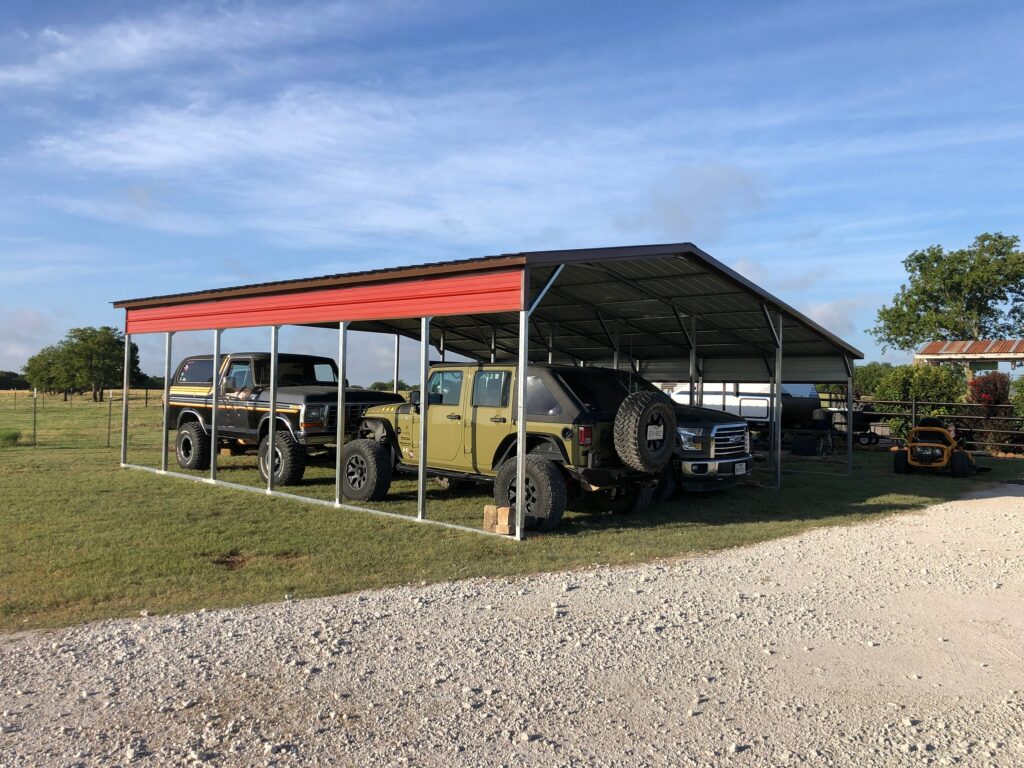 Carports have many benefits other than keeping your car cool in the Texas heat. Carports also provide an excellent place to store a boat, recreational vehicle, or trailer and can also increase your home's value.
Here are 3 Reasons You Need A Carport:
1. Carports Keep Your Vehicle Cool and Protected
Jumping into your car after it's been parked in the summer sun is not just uncomfortable, it can be downright dangerous. I did a simple experiment to see how hot my truck got in the blazing Texas sun compared to sitting under a carport. The difference was downright scary!
Watch my video experiment here!
I know I'm always extra cautious about letting the toddlers get into the hot car, even if we're just going out to eat or running errands. It's just too hot!
Parking your car under a carport will keep the temperature much cooler, making it easier to jump in and go without all the fanning, waiting, and potentially burning your hands on the dash or steering wheel. Not only will the interior temperature be cooler, but your car's exterior will also be protected from sun damage and, other weather situations, like hail and freak snowstorms.
2. Store Other Vehicles and Equipment in a Carport
Carports can be used for more than just your personal car or truck.
A carport can store a variety of vehicles and equipment, such as boats, tractors, recreational vehicles (RVs), and trailers, all of which benefit from being protected from the weather.
When choosing your carport, you will need to keep these other potential uses in mind, since a standard carport is likely not tall enough for a trailer, for example. In fact, there are styles created specifically to accommodate the height and widths of an RV.
We're super knowledgeable about the varieties of products, so tell us about your equipment, and we'll point you in the right direction.
3. Increase Home Value
Another reason you need a carport on your property is that it can increase your home's value.
In today's market, more and more buyers prefer homes with places to store their vehicles, from historic cars and trucks to boats and RVs. While a garage may be ideal, a carport is an excellent, affordable option.
Even if you have a garage on your property, adding a carport can add value by providing additional protection for other vehicles or even to accommodate guests and keep their vehicles comfortable.
Concerned about style? There are many updated carport styles and sizes available. Typically you will choose between a standard or triple-wide size but there are also taller versions made to accommodate an RV or trailer. There are even hybrid styles that include an attached shed for storing lawn equipment or auto equipment. Truly there is something for any need.
If you're considering adding a carport to your property, we at Farm + Yard would be happy to help you choose a style that fits your needs and answer any questions you may have. We offer a FREE yard evaluation so you can be sure everything works for your situation.
Click here to schedule a free Yard Evaluation or contact us by phone: (254) 537-1014.
In the comments, let me know what you do to protect your vehicle from the brutal Texas heat.